She waits for no one, she who sits alone at a table inside the café, the same table she sat at yesterday, the same one she'll sit at tomorrow. She sits at her table all morning, nursing a single espresso, while the other customers come and go, while the waiters scurry past her, balancing trays of café and croissants. In the summer she prefers to sit outside in the sun, but on the cusp of winter she moves inside, every thirty minutes venturing out into the cold to smoke a skinny cigarette, pulling her black jacket tight around her ribcage, a loose scarf dragging behind her. She sits outside and smokes at leisure, defying the chill, watching the rush of pedestrians, ingesting the world.
Back at her table, she swipes an index finger against her tongue and uses it to flick through the pages of Le Parisien. On the table lies an open hard-bound book, its tormented spine shrieking, but she never picks up the book and instead only reads the pages of her newspaper. With her other hand, she holds up a pair of black eyeglasses with one missing arm. The glasses fall in a sad diagonal across her nose. She wears a lifetime of sun on her skin, deep rivers cutting through the planes of her face. Black pencil rims her sunken eyes. Her salt and pepper hair is shorn and bristly. As she reads, she leans against a half-wall partition and lowers her paper. She stares out the café window. She presses her fist to her face, still clenching her glasses, her eyes concealing worry, concealing wisdom.
She sits at the same table, she reads the news, she drinks from a white espresso cup. She does this every day, and she is beautiful.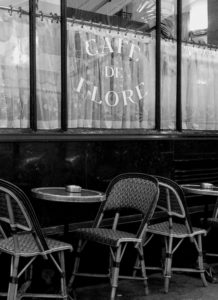 Until one day she isn't there. One day she isn't at the café, isn't at her table, and I imagine her at home in front of her naked kitchen window, drinking bottled water from a clear, green glass, alone and unobserved. She looks down to the street below, looks down to the people strolling on the sidewalk, a mother walking her children to school, their hands held tight in hers, two men in wool coats and peg-legged jeans, a woman leading a ferret on a leash. Through the window of the apartment across from hers, she watches the backside of a man in an undershirt who plays the cello as if in slow motion, his bow slashing the reticent air.
I imagine her setting the green glass on the sill, then turning and sitting at the kitchen table. She peels a clementine and eats it one wedge at a time, leaving the curlicue peel on a sheet of paper towel. She smokes her cigarettes. She reads her newspaper. She makes herself a cup of coffee. Later she chips away at the ice that has built up inside her miniature freezer.
I imagine these things as I sit in the café, drinking espresso and writing in my journal, but when I pause to look up, she is there, sitting at her table inside the café, the same table she sat at yesterday, the same one she'll sit at tomorrow. She is turning the pages of The Parisian with one hand. She is holding up her eyeglasses with the other. She waits for no one. She belongs to no one.
I return to my notebook. I write in purple ink. I wonder what book she is reading. I wonder what her name is. I look up again. She is staring at me. She sees me seeing her, she sees me, and she smiles in recognition.