I must admit that I'm a bit homesick for my old neighborhood, and I don't-yet feel like I've fully settled into my new one. Today is the day I change that. It shouldn't be too challenging; one of the things that tops many "must see" lists for visiting Paris is a trip to my new neighborhood, the Marais. More specifically, a Sunday visit to the Marais. On Sunday, unlike several other neighborhoods in Paris, most shops in the Marais are open and many of the streets are blocked off from cars. So it can get pretty crowded with both locals and tourists taking an afternoon stroll.
It's the perfect place for flânerie. It's definitely fun to explore during the week when it's less crowded, but there's something special about being there on a Sunday afternoon, that feeling that you're in the heart of the city. On Sunday, the Marais feels alive, somehow balancing a sense of being trendy with being timeless; it feels like a hidden discovery that you've magically stumbled upon.
I think the best way to see the neighborhood is to simply immerse yourself and get lost on its narrow side streets, poking into galleries and shops (there are multiple chain stores now but still numerous thrift stores and local boutiques and specialty stores), eyeing the street art, and dropping into a café whenever you need a quick pick-me-up..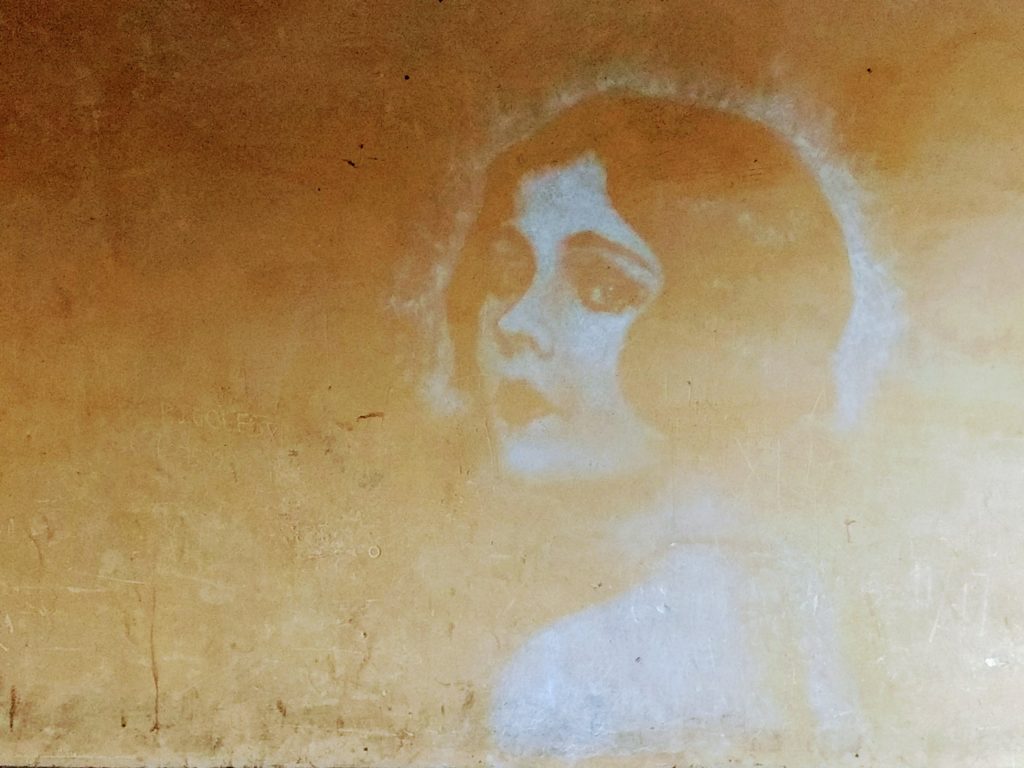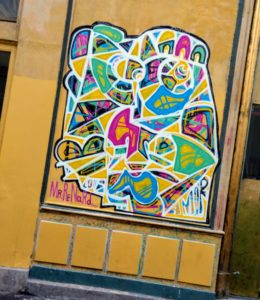 The Marais area is on the Right Bank of Paris and cuts across Arrondissements 3 & 4. Picture an awkwardly-cut slice of pie, whose crust runs along the Seine and then aims up toward République — along Boulevard Beaumarchais and Rue Beaubourg. It has significant historical and architectural importance and today is an interesting mix of multiple communities: Jewish, Chinese, and LGBT in particular.
Fortunately for me, because I'm living near the center of it all, spending a Sunday in the Marais doesn't even require a metro ticket. Unfortunately for me, the Sunday I decide to explore my new neighborhood in depth is, how shall I put it, ass-butt cold and raining, which limits my ability to spend hours walking and window gazing. But there are so many things to see and do in the Marais inside as well as out, so I pull on my cap and button up my big-girl coat to do what I do best: wander.
I live on a little street that's well-seasoned with quirky shops, and my apartment is just steps from le Marché des Enfants Rouges, the oldest covered market in Paris. Throughout the week the market sells fruits and vegetables as well as meats and cheeses and assorted goodies and has several restaurants inside. On Sunday — and at times during the week — vendors take over the streets, selling secondhand furniture, antiques, clothing, and whatever else you happen to find (note to self: no you can't buy that row of theatre chairs you pass by on your way to the Monoprix).
I start my day with a stroll at the Square du Temple-Elie Weisel, a small but still picturesque botanical garden that essentially marks the northern end of the Marais. The park has a pool and waterfall as well as a bandstand and playground. During the week I run there and often see other runners, people playing ping-pong, Tai Chi classes, and folks simply lounging on benches. The garden also has a haunting memorial for not-yet schooled Jewish children from the 3rd arrondissement who were deported and murdered in Auschwitz during World War II.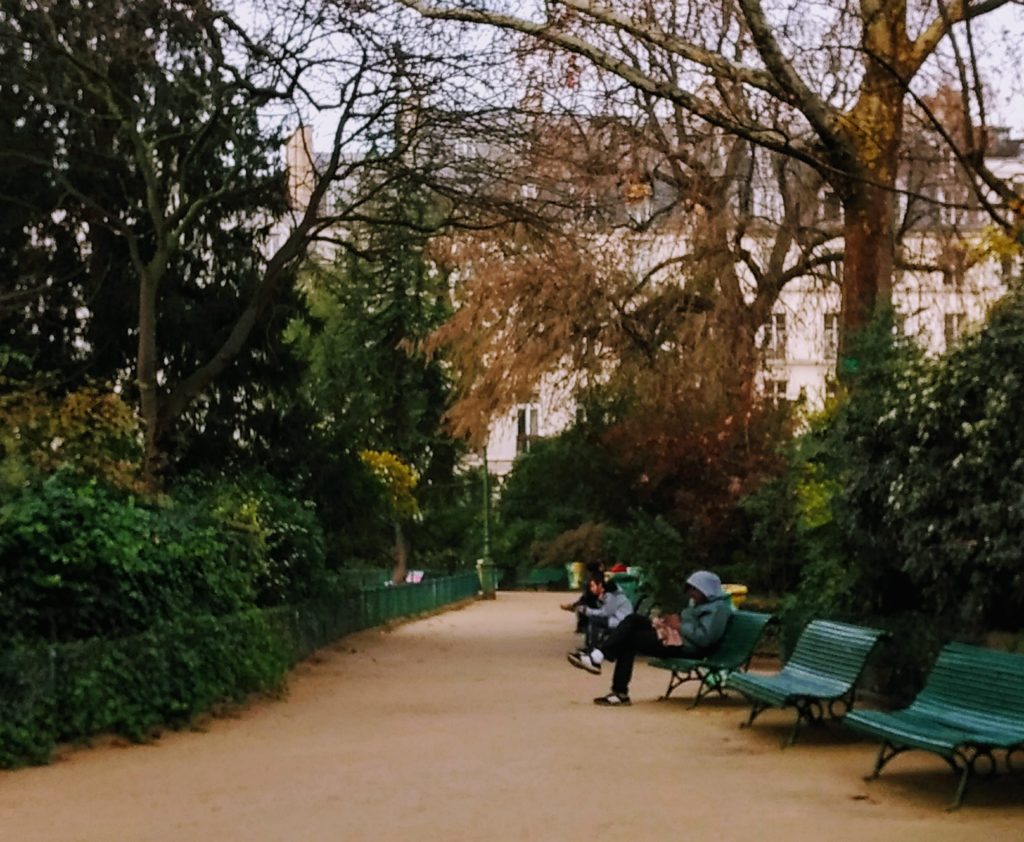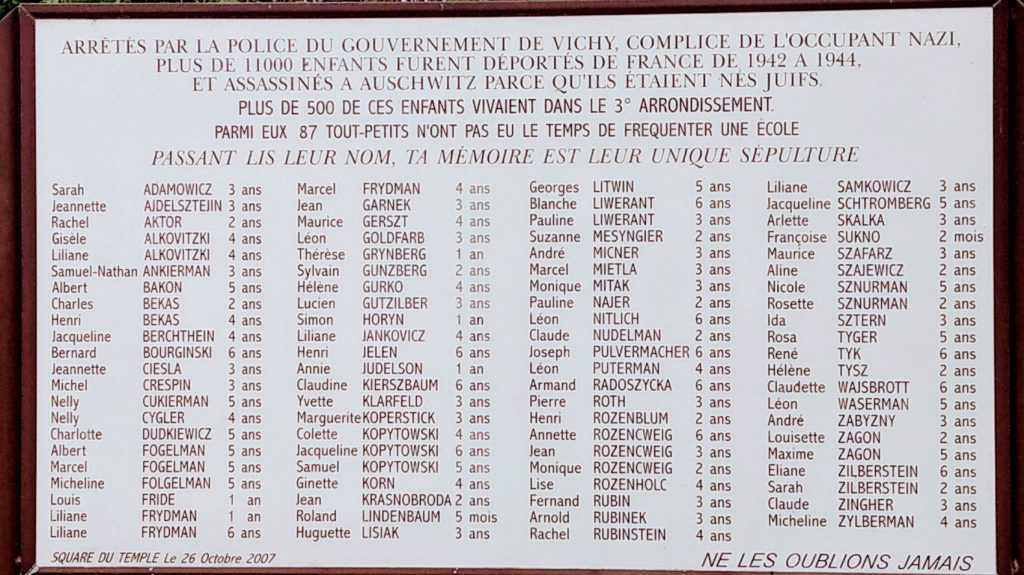 It is, as I said, quite cold today, so I walk to Café Charlot, just across from the market. The café is apparently a hip place to sit and people watch, but with a chill clinging to the still-early hour, it's quiet, and I happily get a seat inside right under a heater so that I can warm up with un café crème et un croissant.
After breakfast, I decide that it's too cold to be my usual aimless self, so I head straight for one of the museums in the neighborhood. There are hundreds of small galleries to see and several larger museums. I don't visit today but highly recommend the Museum of Jewish Art & History and the Maison de Victor Hugo. But for me the day is all about Le Musée Picasso.
You see, I visited this museum years ago and just loved it. I remember it being massive — with a fantastic chronological exhibition that lets even a non-art historian see and understand the evolution of Picasso's work. Unfortunately, every time I've been back to Paris, the museum has been closed for renovation. It finally re-opened in October 2014, and has been at the top of my list for museum visits this time around, especially after my recent love affair with Gertrude Stein and Pablo Picasso.
Located in the Hôtel Salé, the multi-level museum contains thousands of the artist's works in multiple mediums as well as a selection from Picasso's personal art collection. It's large without being intimidating. I'm lucky to visit a special exhibition of the artist's work from 1932, a year when Picasso was already one of the (if not the) most famous painters in the world. The exhibition is also organized chronologically and allows the viewer to follow the record of the day-to-day story of an important year in the life of Pablo Picasso — both as an artist and as a human being. It highlights some of his most-famous works as well as letters, articles, photographs, and sketches that help break down the artist's process.  I'm beyond thrilled to finally return to the museum and blessed with more luck that today is free museum day (first Sunday).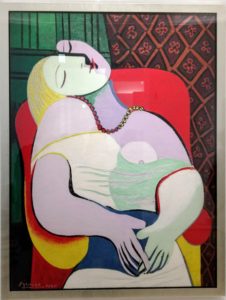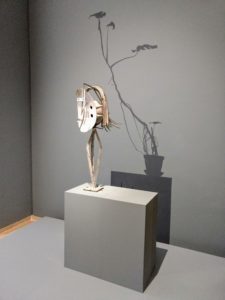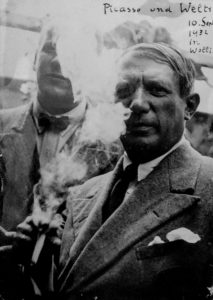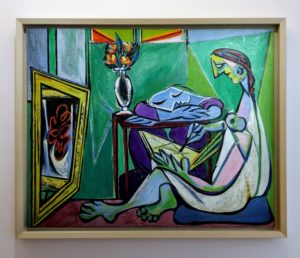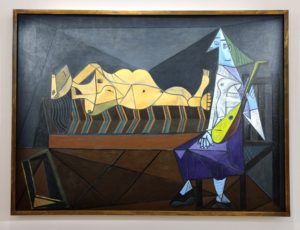 After spending a couple of hours at the museum, I'm figure it's time to meander my way to lunch. There are countless cafés and takeaway places in le Marais; the battle of the best falafel in the neighborhood is legendary, with folks lining up outside the famous places (food blogger David Lebovitz even talks about L'As du Falafel as one of the things you shouldn't miss in Paris, and if someone who used to work at Chez Panisse recommends it, it must be a good thing).
But winter's bite is too powerful today for street food, I'd rather luxuriate somewhere warm, and so I head to one of my favorite cafés, La Place Royale, overlooking one of my favorite squares in Paris, La Place des Vosges. The square is the oldest in Paris, and the garden is beautifully manicured and the perfect spot to have a picnic in warmer weather (it's one of few parks in the city where people can hang out on the grass). When not strolling on the paths in the garden or lounging beneath a tree with a good book, visitors can walk under the high arches of the surrounding buildings, ducking into the many galleries and cafés.
Eating at Place des Vosges is definitely a bit more pricey than other areas (though not overwhelmingly so), but I enjoy the atmosphere so much that I come here often. I chose La Place Royale when I was living in Paris five years ago because the same waitress seemed to be working there every time I came in, and we got to know each other a bit over time. She's not there any longer, but the staff is still always friendly and lets me speak bad French (the waiter even greets me with a familiar, "Comment allez vous?" when he sees me). Plus, most important, the food is solid. It's too chilly to sit outside, which is what I prefer, but inside I enjoy my favorite tartare du boeuf, red wine, and another lingering café crème before heading back out.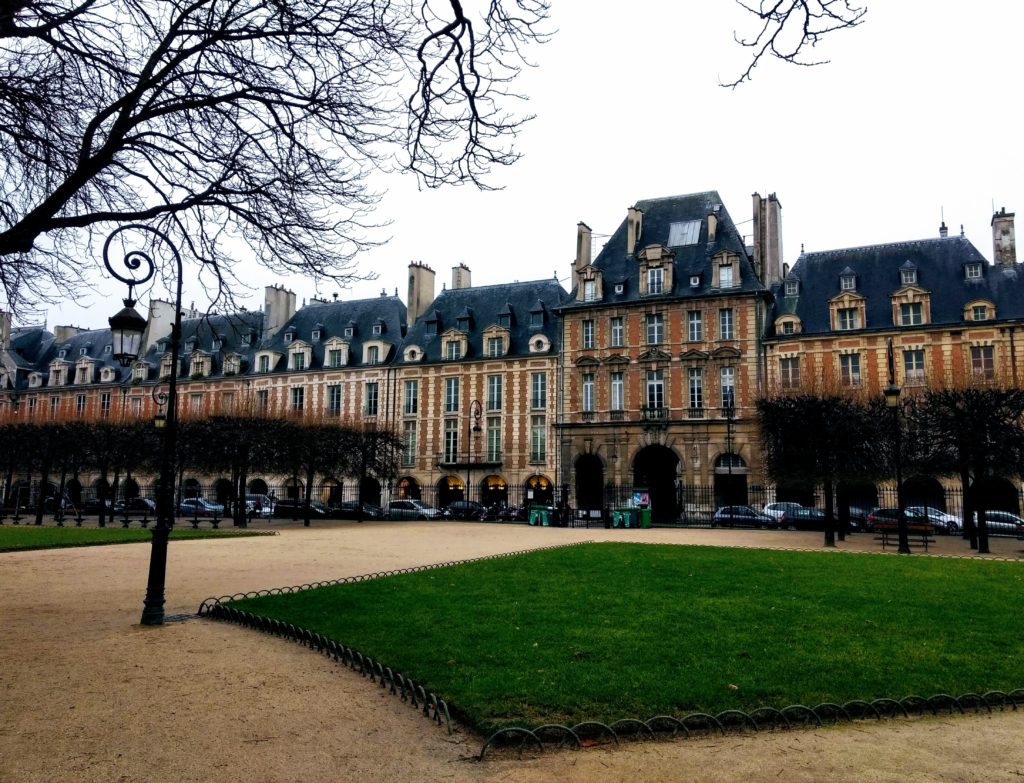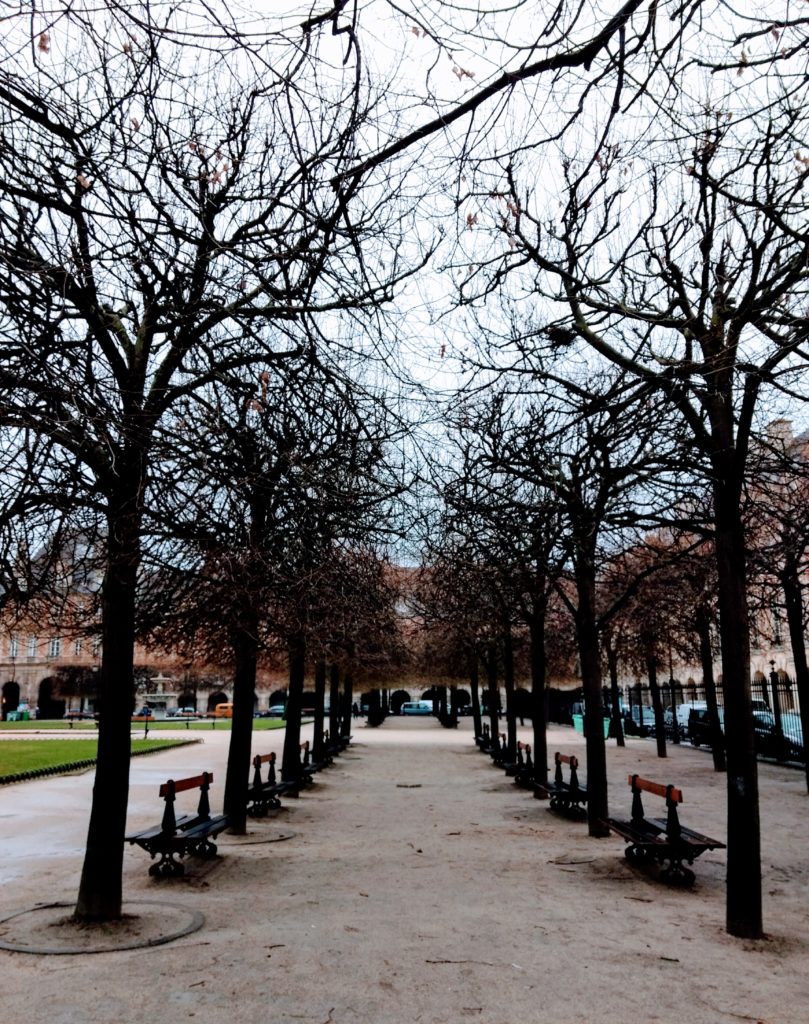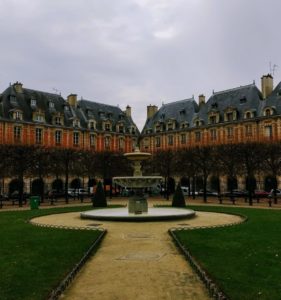 Refueled, I set out to get to know the Marais in my preferred way to get to know any place: exploration without goal or expectation. For me I see the most interesting stuff out on the streets or painted on the walls of buildings or gazing through the windows. It's fun to poke inside of shops and galleries, but the streets are what give a place like the Marais its character. And so after lunch, I take a leisurely lap around Place des Vosges, stepping into a couple of galleries I haven't seen before, and then cut through the garden of the Hôtel de Sully. 
I find myself heading in the direction of the Village Saint-Paul, a sort of hidden neighborhood made up of courtyards and passageways that's tucked away inside the Marais. Village Saint-Paul is a fabulous place to shop for antiques and one-of-a-kind treasures. I've never been before, but I find it quite easily. It really does have a small-village feeling to it, which is crazy to think about given that the chaos of a huge urban environment is just a few steps away. But it's rather deserted today — perhaps the smart wanderers aren't hitting the cobblestones and are instead hitting the warmth of a café chair somewhere, sipping vin chaud. I poke around Village Saint-Paul's charming, narrow passages and take a few photos, though in truth I'm wishing I had another layer on beneath my many layers.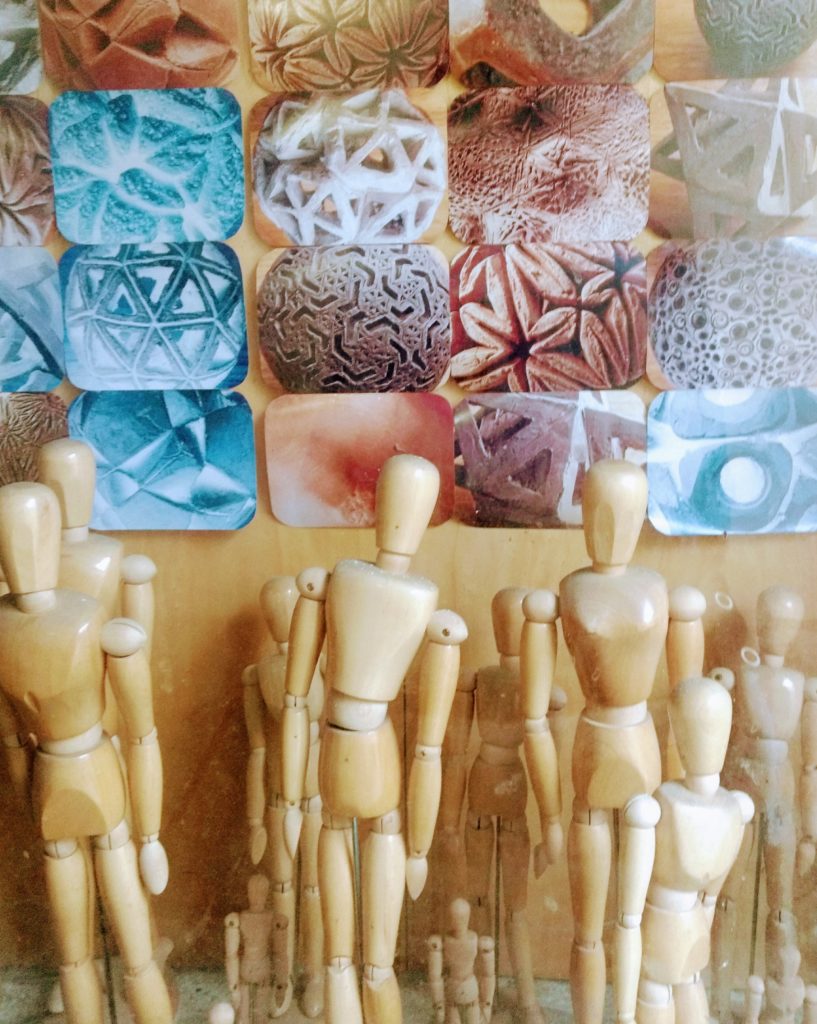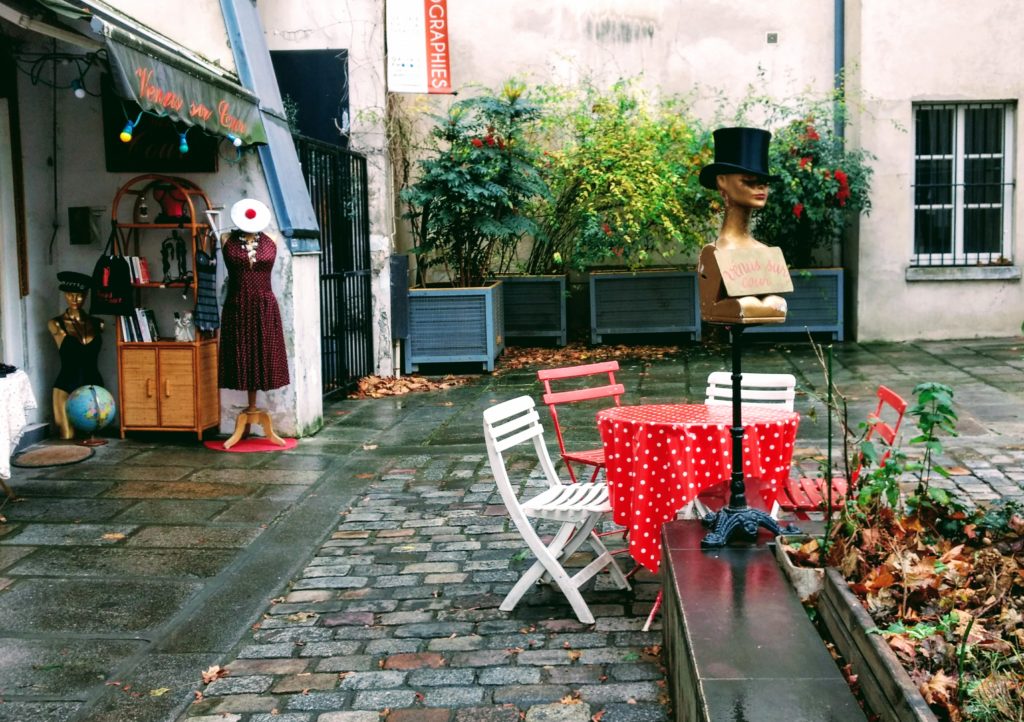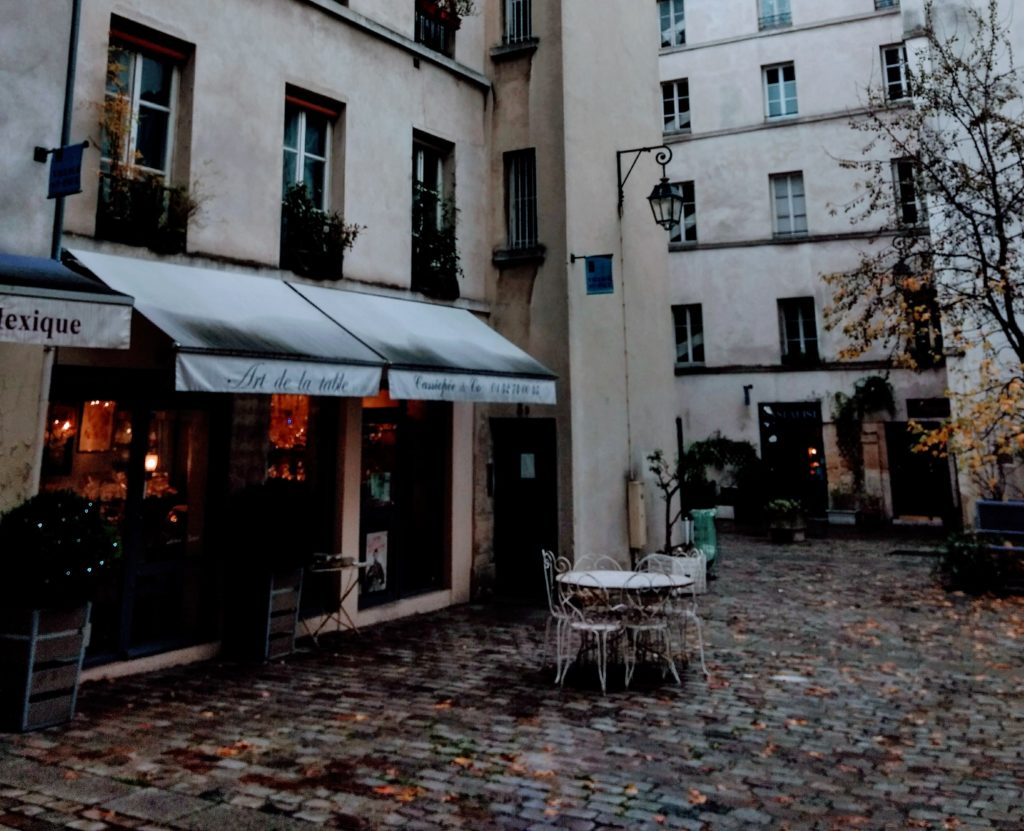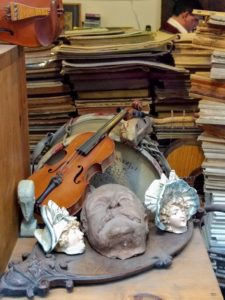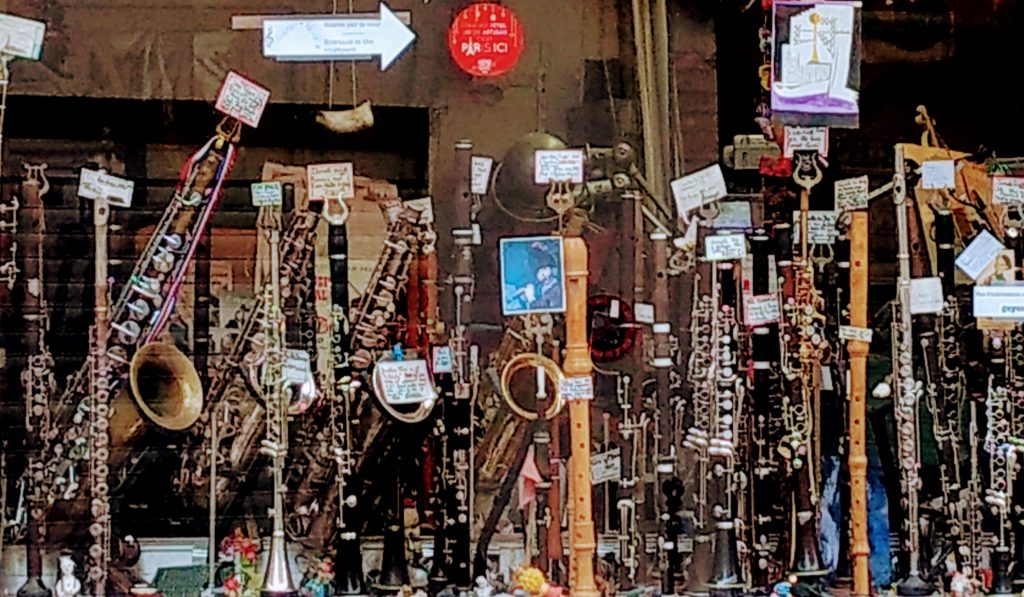 I wind up walking along the Seine, now on the edge of the Marais. In my cold stupor, I somehow leave the neighborhood and find myself at a cute little Christmas market by Les Halles (I know the title of this is "Un dimanche dans le Marais," but we wanderers can't be bothered with lines on maps, especially when our toes are getting numb). There are a lot of holiday markets popping up around Paris, and they're always fun to check out — families strolling through Christmas decorations, stopping by small stands that sell hot food to eat at folding chairs, meats and cheeses, crafts and gifts, and of course vin chaud.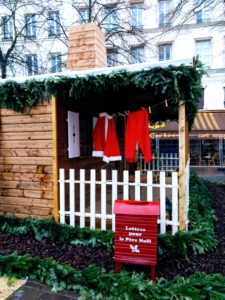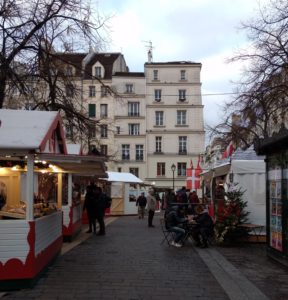 As I exit the market and start the (thankfully short) walk back home, merging with pedestrians who wear down coats and clutch brightly-colored shopping bags, I'm struck by how quickly a place can change. I'm in a new neighborhood, yes, but Paris itself — and the neighborhoods within the city — is constantly evolving. Some changes creep up slowly, and some seem to happen literally overnight. In the three weeks I've been in the Marais, autumn has shifted into winter: winter boots tap a steady rhythm on the pavement; thick wool has replaced rayon scarves; men stirring trays of chestnuts line the streets; the vibrant orange leaves have left behind dark, bare branches; and sharp air prickles what little skin I leave exposed. Men sell Christmas trees on a street corner by my apartment at a stand that wasn't there yesterday; sparkling lights hang in windows; and green garlands frame storefronts. Everything reminds me that the holidays are fast approaching. Sometimes it feels like the city is hibernating, but if you stop and look, you see that it's still awake, it's still alive. Turning back onto Rue Charlot, heading for a hot cup of tea to warm my bones, I realize it is a luxury to be able to witness this evolution, to see the changes both big and small.
Tell me. Have you been to the Marais? What are your must-see spots there?