A friend said to me recently, "This isn't what I imagined my life would become."
I didn't even pause to think of my answer. My gut response was, "This isn't what I imagined for my life, either." 
But afterwards I wondered, If not this life, then what?
***
My youngest niece just found out that she's been accepted into an Ivy League school. Our family is, of course, proud of her — as we are proud of my oldest niece who is also enrolled in a top university. But I have to admit that I'm a little bit jealous of their futures. Both of my nieces seem so together, so driven, in a way that I couldn't fathom at that age; they both worked hard in high school and aimed high when applying to colleges. There's so much life in front of them, so much possibility.
I know they didn't inherit their drive from me. From me they received the love of photo booth photography and accessories. As I've previously written, my entire future was determined by one five-minute conversation that I had in the lobby of my high school theatre. There was no vision, no goal, no expectation beyond, "I guess I'm going to college."
I was smart, really smart, but I never felt motivated to do anything with that smartness. I lacked purpose or even the desire to have a purpose, and the thought of the future was so intangible and overwhelming that I mostly ignored it. I knew how to do well enough that I wouldn't wind up in a gutter, but also (often consciously) to not do so well that I would stand out.
When I was a young adult, I didn't have a plan for the future. I didn't have a deep desire to get married, have children, buy a home, and then furnish that home with attractive furnishings; I didn't think about what sort of career I wanted or what school would be the best school to get me that career. It's not that I actively didn't want these things. It's more that these concepts simply didn't exist in my brain. I'm sure that a part of me knew that life would eventually happen (because what else is there but life?) but what that life would look like never crossed my mind. 
However, if I transported my 17-year-old self to today, I think she'd be stunned. Maybe even a little bit disappointed.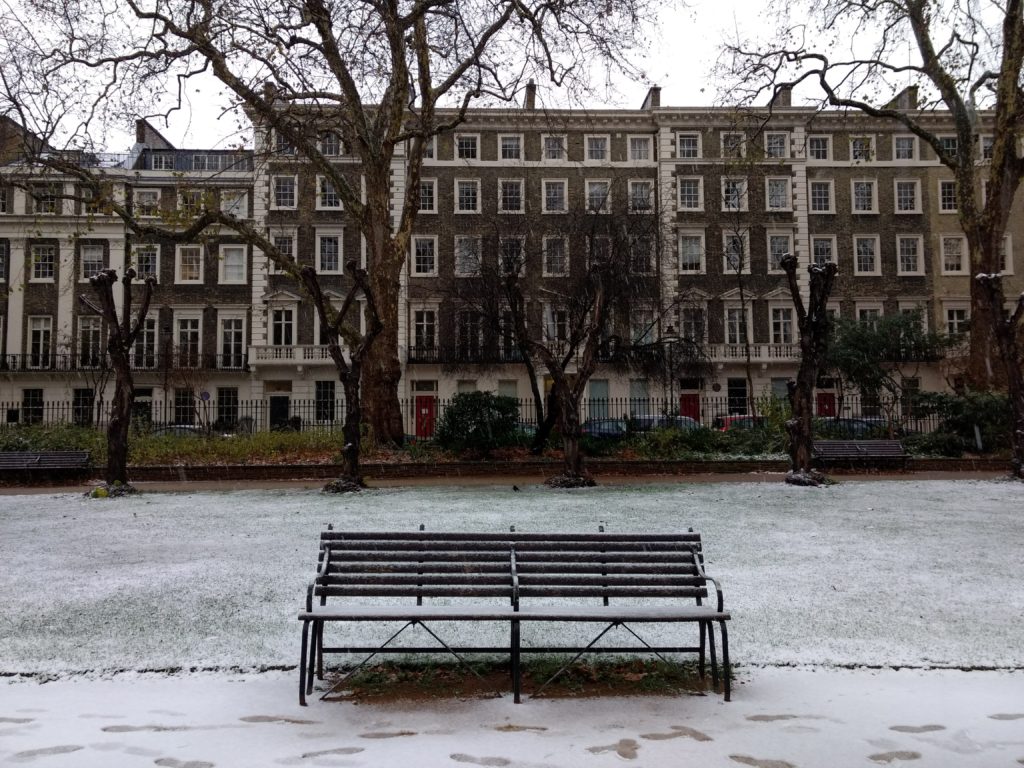 The reality is that I don't think most young people would (or even could) imagine being 46 and alone at a café on a rain-soaked corner in a foreign country during the holidays. I think most young people, when they imagine their future, if they imagine anything, imagine some sort of career followed by finding The One, perhaps having children, buying a home, and making that home look like an adult lives there. These are the things that are supposed to happen in life, whether we admit it or not. 
But what happens when most of these things don't happen — or they don't happen in the way you think they are supposed to happen, if they're derailed by illness, infertility, infidelity, divorce, death? In short, what happens when the abstract concept of life becomes its reality?
I tossed out what my friend said to me to a few of my faithful readers, and was surprised by some of their answers. A couple of people did say they definitely knew they wanted to marry and have children, but few said they ever had some sort of vision for the future as a young person. Most have married and/or had children at some point, but for several this was an unexpected — even "lucky" as one put it — surprise..
The thing, though, that kept creeping into our conversations was the ongoing struggle of learning to confront the concrete challenges of adulthood. A person can have everything that s/he dreamed of (or even didn't dream of), but that dream doesn't usually include chronic illness, aging parents, financial challenges, foreclosure, layoffs. Even when a person grows up with a specific vision for the future, that thing called life has a way of interfering, forcing that person to make numerous compromises until finally discovering, "Yes, this is the place for me."
Having a place. Belonging. It seems so central to life. Even we free-spirited types need to feel tethered to something. For many, I imagine that place is about being tied to the physical — a city, a house, a room of one's own — but one's place is also about having emotional ties. Perhaps the emotional belonging is even more important than the physical.
The larger frustration I kept hearing from my respondents was about the inability to secure their place in the world, to fasten those ties, even as an adult. Some expressed that they've never been able to find their place while others said it's more a feeling that they once had it but now it's gone missing. Maybe they were happily married and are now divorced; maybe they've moved to a new location where they haven't yet secured a community; or maybe they're rooted in a familiar location but their connections have long ago moved away.
Some of us, especially those who don't have many familial or communal ties, may seem to have more freedom, but without roots, it can be hard to feel connected to your own life. "Yeah, we have freedom, but freedom to do what, exactly?" a friend and I used to say to each other. Over time, after years of trying something new, even the possibility of dreaming that there could be something else, something better, can wither and die. 
One friend I talked with said that even though she hadn't dreamed of a specific life as a girl, she didn't expect there to be so much change. She said that adjusting to these changes is an ongoing challenge: "I assume/expect things to continue as they are. That my friends will always be my friends. That I will always have my family. That Pop Tarts will always taste good. But that's not how it goes. It's taking me a real long time to figure that out."
Intellectually we probably all realize that change is inevitable, but even so, I think a lot of us assume that at a certain point in our lives things will be settled, that we'll hit a period of stability where we won't have to constantly readjust our selves: we'll have a steady circle of friends; we'll have a committed and faithful partner (and children, if we want them); we'll have a home. So when that core we've spent years developing is shaken, even if it isn't what you dreamt about in the first place, it can be pretty unsettling. And once that core is gone, many are finding it difficult to rebuild a new foundation in middle age; it's like a bunch of stray dogs wandering around, hoping to find new homes.
But what about those of us who never had those things to begin with? For me I'm finding it difficult to reconcile societal expectations with my own. In fact, it's still hard to articulate what I want. I certainly know I've failed at society's expectations for being a woman. Women are supposed to marry and have children and be domestic; I have accomplished none of these things, nor have I ever seriously attempted these things. 
A person — especially a woman — who doesn't marry by a certain age is, in many eyes, inherently flawed; she's too picky, too career-driven, too independent, too broken, too undesirable. I've even heard friends, the same friends who will celebrate my life, say, "I'd never date a 40-year-old man who had never married before." If they wouldn't date him, shouldn't I assume they wouldn't date me? Virtually every day I hear comments about how women who don't have children are selfish, that motherhood is the most important job a woman can have, that a woman cannot possibly understand real love if she doesn't have a child. 
In a nutshell, a woman like me is flawed, undesirable, selfish, without real value, and incapable of true love.
I know, as a friend said to me in an email this week, that I should "tell society to go fuck itself and you'll just keep living your life, thank you very much." But even she admitted that in her own life that hasn't always been so easy. However, she also pointed to what I think is the real problem for those who, like me, feel like they've spent their lives floating along, unable to secure a space. It isn't that we've failed society. It's that "society has failed [us] — it's not creative enough, or flexible enough, or imaginative enough, to allow for this version of a woman's life." 
So maybe my life isn't derailed; it's that the track I'm on never existed in the first place. At least not in this society. Maybe all of the angst comes from trying to reconcile the irreconcilable. In the end, it's hard to find a space in a society that hasn't designated a space for someone like me.
It is possible, of course. One can designate one's own space. This week my mother reminded me of the importance of forging another path when the path you're on isn't the one you want. She said there's always a choice, that you can find something new. When she was younger, she was painfully shy ("afraid of my own shadow" she said in a text message) and yet simultaneously afraid of succumbing to a boring existence. So she made a conscious decision to move away and start over, to transform herself into someone new. And she did. Literally she moved over a thousand miles away and began again and has never regretted it once.
That was almost sixty years ago, when she was in her early 20s, and I saw her do it again in her 60s after my dad died. Of course, she loved my dad, and they had a good marriage and a good life. But her life didn't end when he died. Instead, a new life began, a life that presented her with new opportunities, ones she could never have imagined before (remember when she got a tattoo?) Now she's never been happier, and at 80 years old, she's still eager to see what's next. She's still eager to learn and to grow.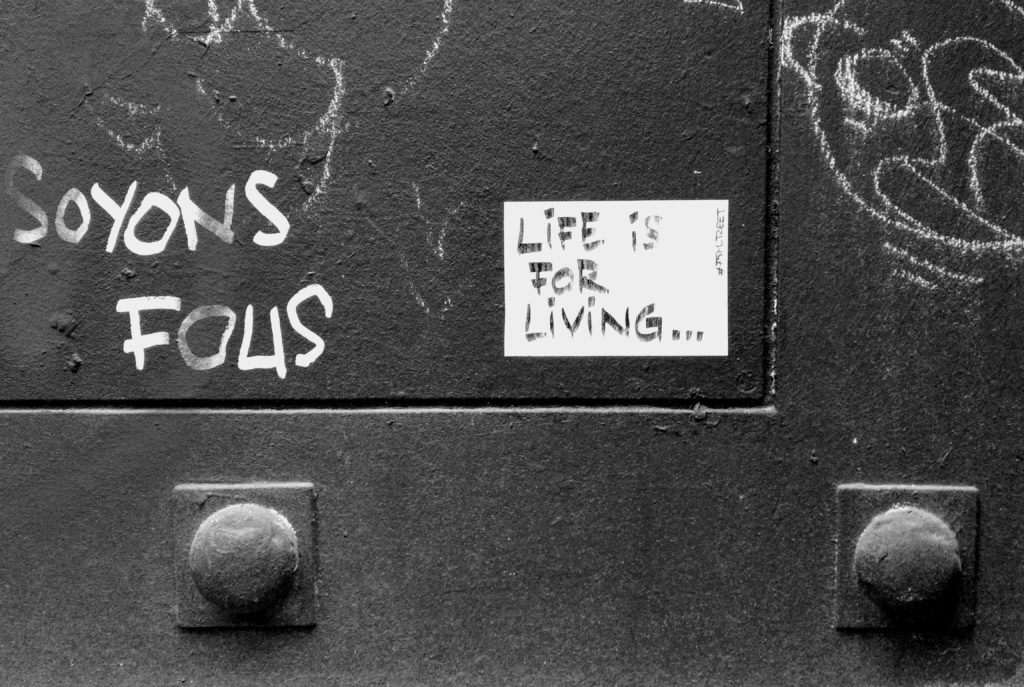 What does all of this have to do with my living in Paris? What does it have to do with la flâneuse? Well, I suppose nothing and everything. A few weeks ago, I happened to meet Lauren Elkin, author of Flâneuse when she was leading a discussion at a bookstore here in Paris. I told her how her book had changed my life and how in the last few months I've come to realize that my journey as a flâneuse isn't just about a wandering of the body but also of the mind. She told me that this was the chapter she didn't include in her book.
A voyage of the body is always, in the end, a voyage of the mind.
A part of me wishes I had been more thoughtful about my life choices, that applying to a top school or actively wanting a partner or family or even buying adult home furnishings would somehow make me be in that place that I never imagined. Sometimes it all feels like a series of mistakes. Perhaps the things that I'm not doing really are the things I'm supposed to be doing. But, as I learned in the Lifetime movie I watched last night, my 17-year-old self probably wouldn't want to hear these things. Besides, that would require that I be a completely different person than the person I am. And I can't imagine who that person would be.
For now, based on the wisdom of my friends (and my always wise mother) I know a few things in life are true: (1) Whether married, divorced, widowed, or single, we need our people (and our pets) to help keep us grounded; (2) We may need things, but mostly we only need the things that help make us, us: travel, passports, Star Wars, the Oscars, the Olympics, sunscreen, art supplies, notebooks, pens; (3) Pop Tarts still taste good. (Although my friend above said she recently ate a Pop Tart and retracts this. Perhaps we should amend Pop Tarts to this final truth: Cheez-its are eternal.)
What about you? Is your life what you imagined? Did you ever imagine what your life would be? I'd love to hear your thoughts below!
La Wander's Note: Thanks to all of the friends and family members who offered their insight — love to you all! xo