This is the true story of how I decided where to go to college.
Spring, 1989. Senior year. Final period theater class. My friend, Sarah, approached me in the theater lobby:
"Where are you going to school next year?" she said.
"I dunno," I said. "I guess I'll just stay in Albuquerque and go to UNM."
"No! You should come down to State and be my roommate."
"Um, okay."
And that was it. I went home that afternoon and asked my mom for a check so that I could apply to State. (I don't remember this last part, but my mom assures me it's true.)
I've never had a life plan. I've never been particularly driven. I was smart and did what I needed to do, but there's rarely been a specific goal I've been aiming for. I trust my instincts and have managed to avoid major disasters, and I tend to not be someone who regrets any of her choices. For the most part I live in the moment.
College at NMSU was fulfilling, and it led me to graduate school in central Texas which led me to the Bay Area (without a job or even the prospect of a job, but moving to one of the most expensive places in the world without a job felt pretty normal to me) which, in the end, led me to this minuscule apartment in Paris. It's all worked out just fine. But I sometimes think back to that moment in the theater lobby and wonder what my life would look like were I remotely driven. I think about these things especially when I'm in places like Paris, London, or New York City.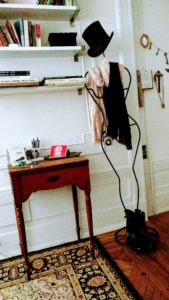 You see, while I'm not a planner, I've always been a dreamer. I dreamed about being an exchange student in France. I dreamed about living abroad. I dreamed about life as la flâneuse (though I didn't even know the word back then). I dreamed about going far.
When I was 16, I sent for applications to schools across the country. I would imagine what it would be like to be a student on the California coast, in Boston, or, most important, in New York Ciry. To clarify: I sent for these applications. I did not fill them out. Why not? I had great grades and great test scores. My financially-responsible and financially-able parents had carefully saved money so that my brother and I could pretty-much go to the college of our choice. I was one of the lucky ones. But while I could flip through the glossy pages of the NYU brochure, the thought of actually sitting down and filling out the application was beyond overwhelming. So while I wouldn't change my life, I do wonder who I would be had I been less afraid to take a chance on myself. Who would I have been had that conversation with Sarah back in 1989 not taken place? Had I been absent that day or running five minutes late?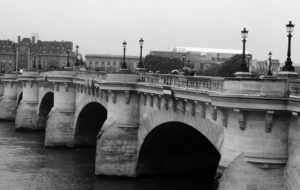 Is that me in Brooklyn, arguing with the parking enforcement officer?
Is that me, reading quietly on the tube?
Is that me, in the linen sheath and red Chuck Taylors, pushing a baby stroller over the Seine?
Is that me, with silver-streaked hair, stashing a crumpled pack of Camels in my mailbox?
Is that me, speaking fluent French, drinking du vin blanc and flirting with the sexy Scottish stranger? 
Is that me, performing in Hello, Dolly!?
I'm here now, of course, traveling for the next year, living a damn good life. And I do realize that could be me, lying in a gutter, with a needle sticking out of my arm; the thing about sliding doors is that the better path, the more glamorous path, is impossible to predict. And I know my alternate self, the one arguing with the parking enforcement officer/reading on the tube/pushing the baby stroller/stashing away my Camels/flirting with the sexy Scottish stranger/performing in Hello, Dolly! probably sometimes dreams of me.
(Okay, that last one might not be true.)