With our being back in a nice villa on my beloved Riviera (between Cannes and Nice) I'm happier than I've been for years. It's one of those strange, precious and all too transitory moments when everything in one's life seems to be going well.

F. Scott Fitzgerald, March 15, 1926, Juan-les-Pins
Zelda is recalculating, recalculating. She's been doing this all morning, frustrated as we navigate the windy, coastal roads on our way to Éze.
"Do you think she dipped into the gin again?" I say to my friend, Kate, our faithful driver. We pass a sign saying that our turnoff to Éze is closed — just for the day.
"I think she's rolling her eyes at us," Kate says as she circles back down toward the blue waters of the Mediterranean Sea. "She told us to take the freeway."
We pass through sleepy villages, well-worn shuttered houses and shops standing within feet of mansions, turning right and then left, switching back and then back again, heading down, down and then up toward Éze.
"I just know she's taking us back to that turnoff," Kate says.
"It's not her fault she can't read," I say as we pass the same mocking sign. Fermée le 20 septembre. 
"Don't think we're going to get our overpriced cocktail overlooking the sea," Kate says.
"Recalculating, recalculating," Zelda whines.
"I think she needs a nap," I say. "Let's just skip ahead to Monaco to get our overpriced cocktail overlooking the casino."
Zelda purrs as we finally get back on the main road, her diesel engine happy to at last be going in the right direction.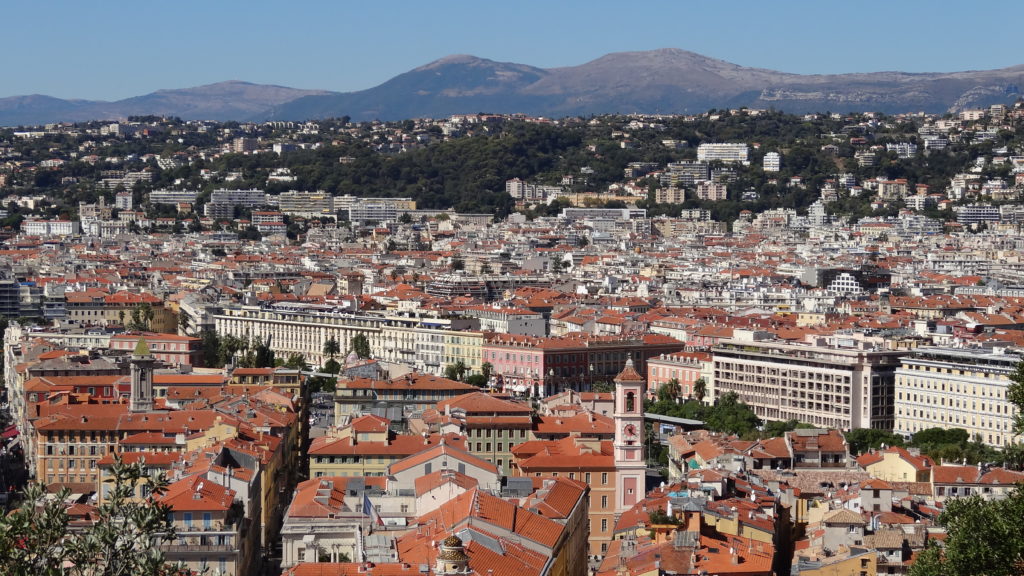 The thing about Paris is that it, like any large city, can quickly get exhausting, frustrating, dreary. One feels the tug to get away. So when Kate messaged me that she would be in Europe for work and was thinking of a little road trip through La Côte d'Azur between meetings, I eagerly responded that I'd be happy to hitch a ride.
"Hemingway and Fitzgerald and those guys spent a lot of time on the French Riviera," I say in the bar car on the train to Montpellier. "This is a work trip for me too, you know. I even brought books."
"Of course it is," Kate says, her eyes a bit wild with jet lag though she's surprisingly sane, even energetic, after a 24-hour flight delay in Newark, New Jersey. "I really need a coffee."
I stare at la carte. "Should we get wine? For research."
Kate nods. We pair our cappuccinos with mini bottles of rosé poured into plastic cups. We figure: WWPD? That is, What would Papa do?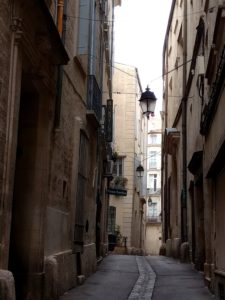 We arrive in Montpellier late on a Sunday afternoon, so a lot of the shops and restaurants are closed. But as we're staying in the new part of town, on the outskirts of the city center and there isn't much of anything here for us to explore, we decide to walk to the old part of town for some flâneuse-ing and some dinner. In the center we find several bars and restaurants that are open, most overlooking one of the city's lively squares. Montpellier is a university town, alive with young students, locals, and tourists. Somehow Kate, in her jet lagged state, gets a second (maybe even a third) wind and we eat a solid meal and even stop for a cognac before heading back to the hotel.
In the morning, Kate has a meeting (this is work, remember?) so I spend the time lounging around the hotel room, enjoying a nice soak in the tub (which is larger than my entire bathroom in Paris), before Kate returns with the rental car (Enchantée, Zelda!) and we check out.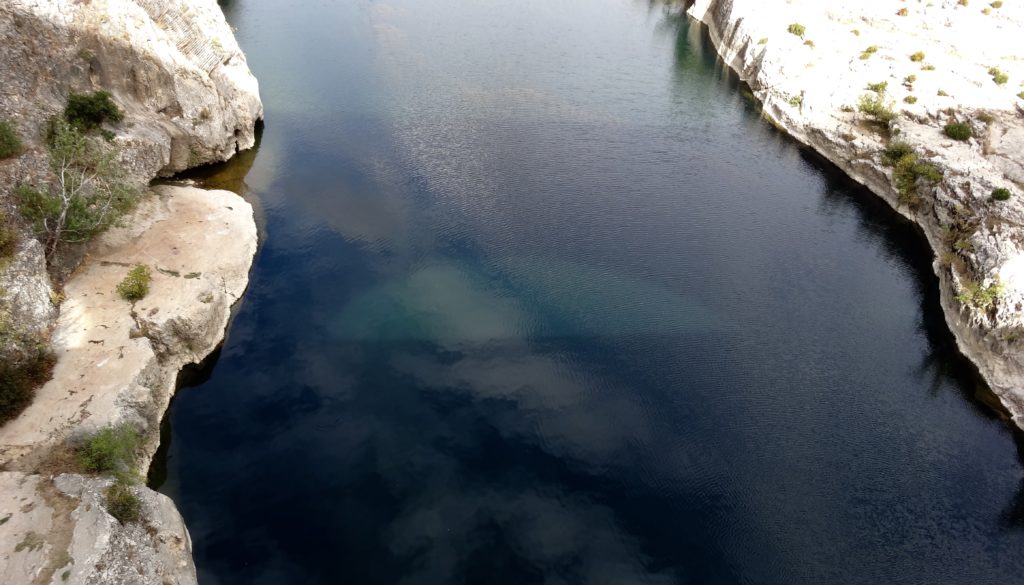 We're eventually heading to Aix-en-Provence (simply pronounced, X) but first we make a stop at the Pont du Gard, a bridge that is a part of the ancient Roman Nîmes aqueduct, which was built in the first century AD to carry water from Uzès to the Roman colony of Nemausus (Nîmes). Much of the aqueduct was underground (we get to descend to see archaeological bits of this at the wacky little museum at the site) but the Pont du Gard itself stands above ground up to 160 feet. The bridge is well preserved and is on UNESCO's list of World Heritage Sites. It has three layers of arches, the lowest of which was added in the 18th century. (This is the one we get to walk across.) Even after the Roman Empire collapsed and the aqueduct ceased to be used, the Pont du Gard functioned as a toll bridge (before it became a tourist attraction). Now it's one of the most-visited sites in France, especially in the summer when locals and tourists alike splash in the river and relax on its shores.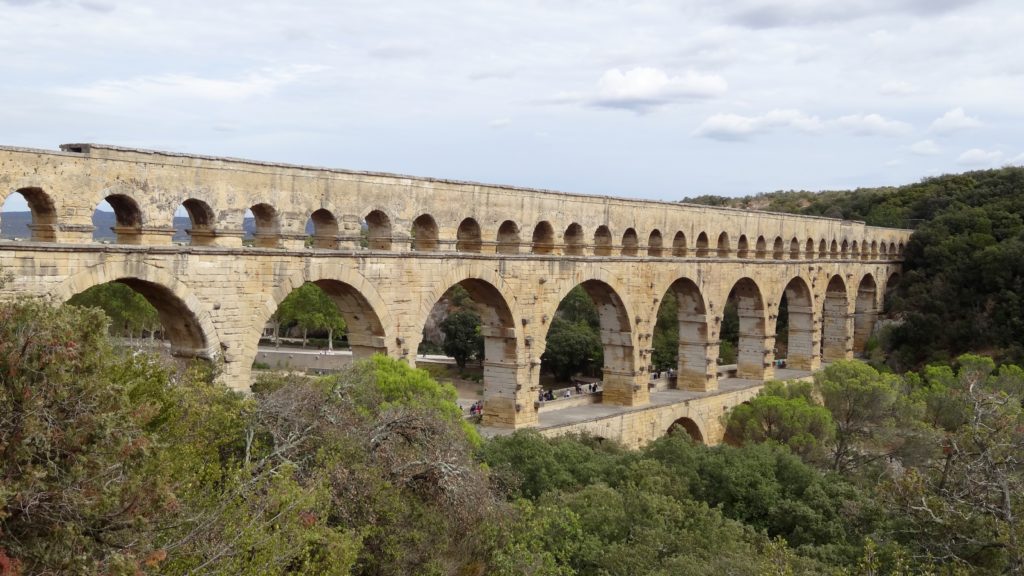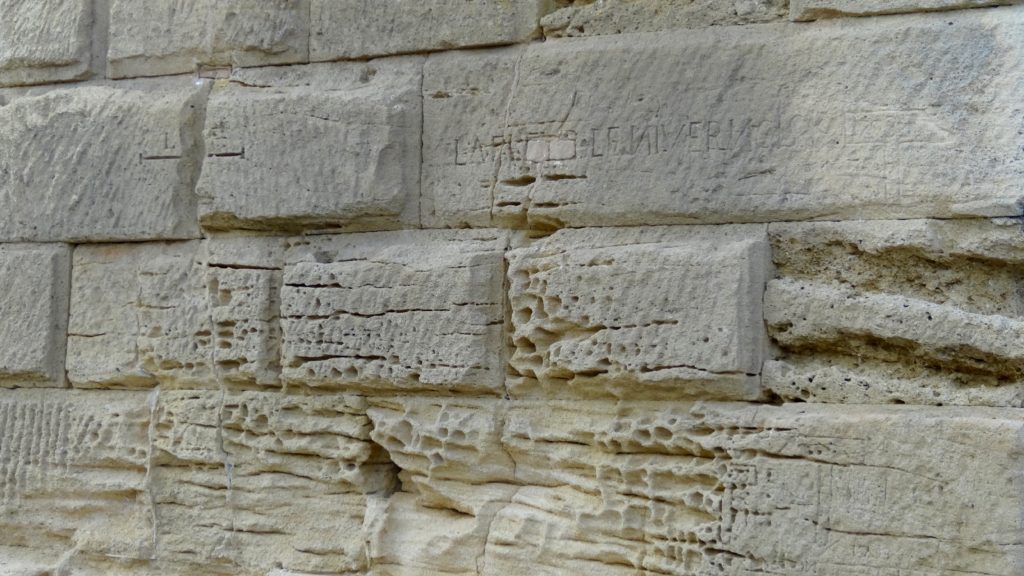 Happily, we're there just outside of peak tourist season, so there aren't too many visitors. We escape what few crowds there are by taking a short hike up to a view point. Up high we can see the stunning way that this massive bridge was crafted, without advanced technology. Before leaving, we decide to walk across the lower level. Looking closer, I'm struck especially by the graffiti I see, stretching back hundreds of years. I guess that no matter what year we arrive on this planet we want to leave our mark that we were here.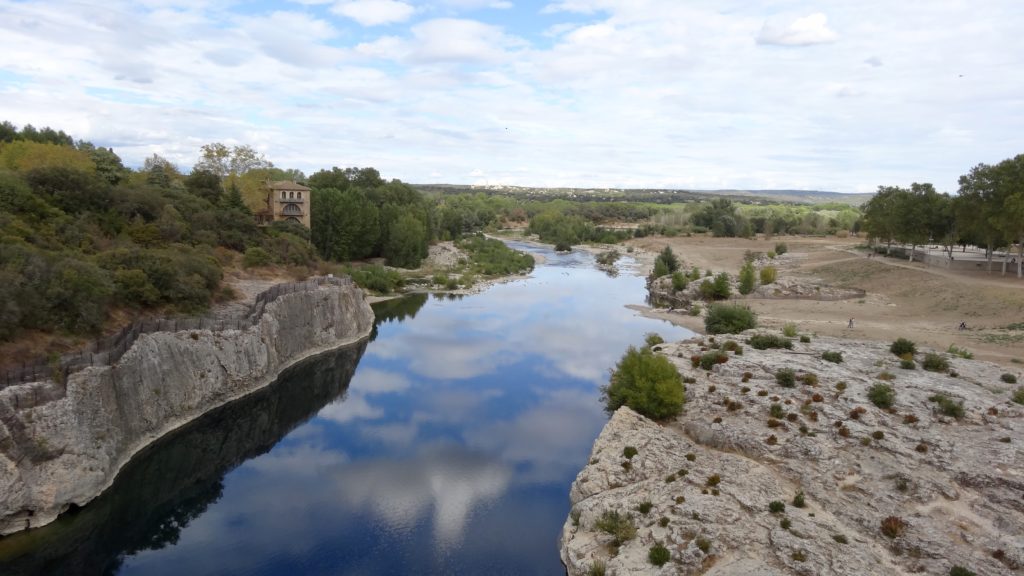 The sun is starting to hang low, and the clouds are shifting. With every step we take the light on the Gardon River changes, from shadowy waters to what could be a Monet painting. Bliss.
At some point during the day, I realize that we're going to be passing just outside of Saint-Rémy, which is where the Saint Paul Asylum (now called the Clinique Van Gogh) that Vincent Van Gogh voluntarily checked himself into on May 8, 1889. Detour time. We have to stop.
It isn't just that it's Van Gogh. You see, a few years ago, I started thinking about my characters as paintings. I had this realization that one of the characters in my novel, a young mother who commits suicide, would be a Van Gogh painting. Perhaps that seems a bit odd to some of you non-writerly types, but for me, it changed everything. And it made me develop a profound attachment to the artist and his work. Just the thought of being in this space where Van Gogh painted some of the most important works of art in history is almost too overwhelming for me.
Van Gogh stayed at Saint-Paul Asylum for a year, and in that time period he painted about 150 canvases. He was initially confined to the hospital, but through his barred windows (and eventually as he strolled the surrounding grounds) he captured a landscape that he carried into his paintings, a landscape of trees and flowers, wheat fields and open skies, a landscape that changed with the seasons, that changed from day to night, from night to day. As the hospital wasn't crowded when he stayed there, he had his own room and a separate room that he used as a studio. While his stay gave his normally chaotic life some stability, over the course of the year his condition worsened, and in May, 1890 Van Gogh arranged to transfer to Auvers-sur-Oise, just north of Paris.
Several of Van Gogh's paintings from this period were exhibited before his death in July, 1890. Sadly, the artist was too far gone to appreciate the increased interest in his work.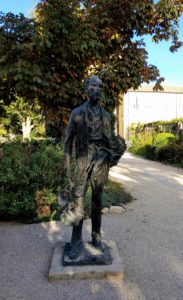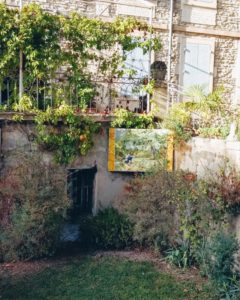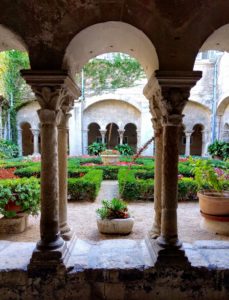 Today, the hospital is still in operation, though there is a separate small and classy museum dedicated to Van Gogh. Kate and I arrive around an hour before closing, and there are few visitors, which adds to the feeling of tranquility. It's a lovely stroll to the building; the grounds are full of flowers and trees, the scene beginning its transformation from summer to autumn, and copies of Van Gogh's paintings hang along the pathway, as if they are an organic part of the setting.
As we walk through the halls and the grounds, I am struck by a sense of solitude, one that is simultaneously calming and alienating. Yes, it's peaceful. It's beautiful. But there is an undercurrent of sadness built into in the landscape, perhaps one that I extract myself knowing the story of Vincent Van Gogh, though I think more likely it's one he tapped into in his work. I stare out the window in his bedroom and wonder if my eyes are seeing the same things the artist's saw. Van Gogh's words to his beloved brother, Theo, on his deathbed, echo in my heart, La tristesse durera toujours. The sadness will last forever.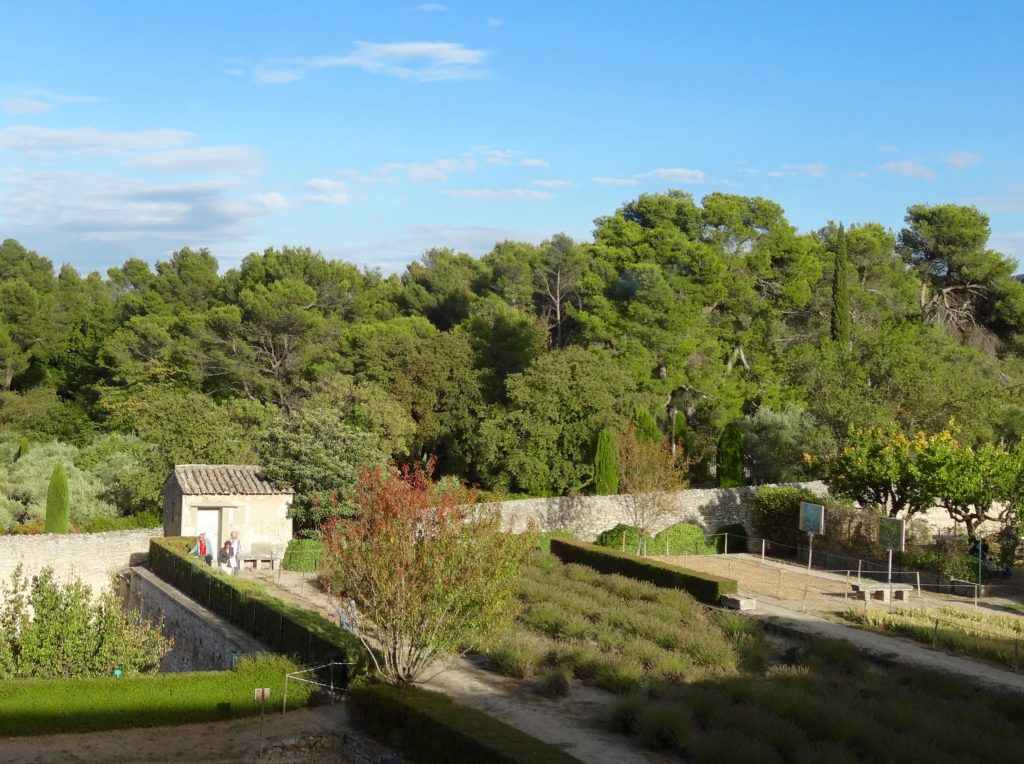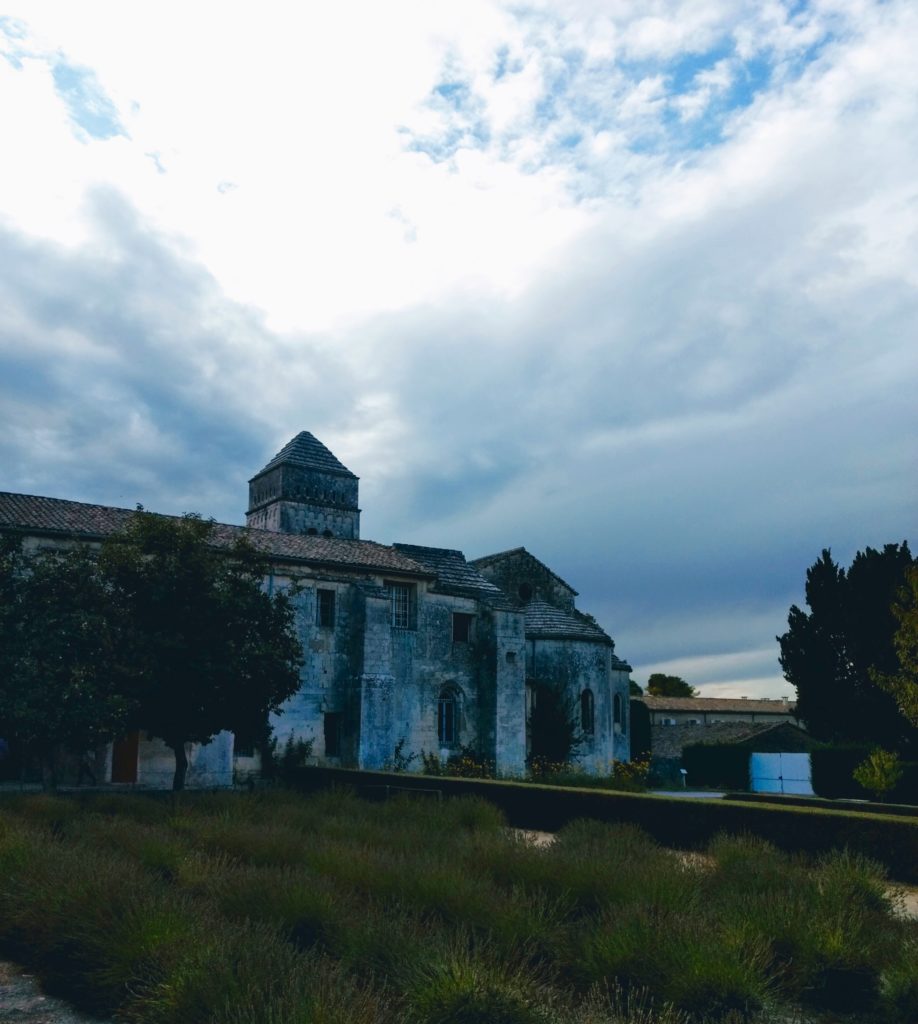 Satisfied, though exhausted, we find Zelda and make a discombobulated journey to Aix — which is an entire story on its own that involves non-existent turns (Zelda, that one wasn't your fault), unnecessary freeway entrances (Kate, that one was totally your fault), baffling toll booths (let's blame France), and major cities not appearing on GPS (ummm…seriously…Zelda). At last in Aix we happily find a mediocre bistro then grab a quick drink at Les Deux Garçons because Hemingway supposedly drank at this bar (though, really, where didn't Hemingway drink?) before collapsing.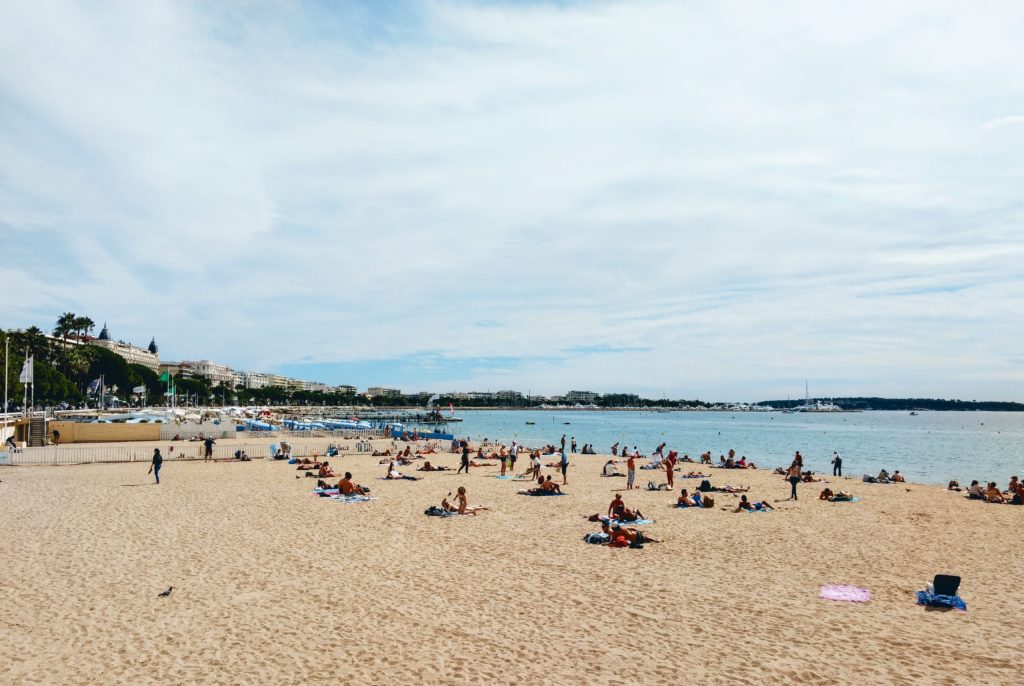 Still glowing from the previous day's wanderings, we head out in the morning aimed at Juan-les-Pins, a town in the commune of Antibes on the French Riviera, which is where F. Scott and Zelda Fitzgerald lived with their daughter Scottie for a time in the 1920s. F. Scott Fitzgerald's final, finished novel, Tender is the Night, about the dissolution of a marriage, was clearly inspired by his time there and the tragic breakdown of his and Zelda's own marriage. Prior to living there, Fitzgerald had spent considerable time on the Riviera (even finishing Gatsby there!) and famously said of being in Juan-les-Pins, "I'm happier than I've been for years." This in spite of his rocky and sometimes volatile marriage.
As if being in Saint-Rémy wasn't enough to push my nerdy self over the edge.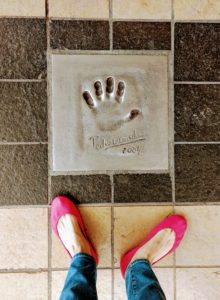 First, though, we must make a pitstop in Cannes. There isn't a film festival going on at the moment, but the scent of celebrities lingers in the air (though maybe that's just the fumes from the many yachts and cruise ships on the sea) and there are celebrity handprints in the pavement for us to gawk at. Luckily, Kate doesn't mock my excitement too much (at least not to my face) as I check each handprint against my own. (Meryl Streep seems to have long fingers like mine but a shorter palm; what could that mean?)
Of course, with yachts and cruise ships come a lot of people, and we spend a couple of amusing hours listening to various accents trying to navigate the town as we stroll along the promenade, passing hotels we can't afford and designer shops we really can't afford (some of which we probably can't even pronounce). But we can afford cheap sandwiches and one frou-frou drink on the beach, eyeing beach goers and the blue horizon.
We finally roll into Juan-les-Pins in the late afternoon and head straight for L'Hôtel Belles Rives, which is the hotel that expanded on the rental house that Scott, Zelda, and Scottie lived in on the Riviera (correction: we check into our affordable business class hotel and then immediately make our way to the Belles Rives). While Juan-les-Pins is clearly marked by modern tourism, the town seems to maintain an authentic sense of local charm. On the walk to the hotel, we pass men playing pétanque on the beach; we spot natives lounging at café tables, smoking cigarettes and drinking wine or espresso; and the overall atmosphere has that lazy feeling of getting ready for winter's hibernation.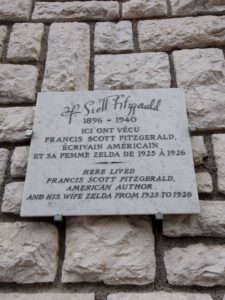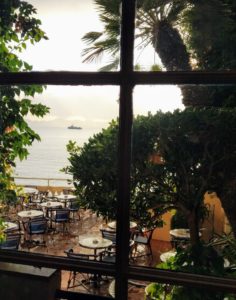 While Belles Rives has been totally remodeled, it is clearly proud of its Fitzgerald connection. Outside the hotel hangs a plaque, reminding guests of who used to live here. Inside there are photos of Scott and Zelda, copies of the Prix Fitzgerald books are on display, and there are even F. Scott and Zelda espadrilles that you can purchase (I didn't, promise).
In the name of research we head to the Fitzgerald Bar, a cozy and attractive Art Deco bar complete with piano, fancy cocktails, leopard print chairs, well-dressed waiters, and gorgeous views of the sea. Although the rain is looming, we sit outside on the terrace, sipping €20 cocktails (totally worth it) and battling pigeons who seem keen on stealing our little bowls of snacks. A larger group of tourists is out on the terrace with us, but overall the bar is fairly quiet and in spite of the damn pigeons, we enjoy the stunning views — the calm of the sea and the ever-changing sky — until a flash of rain pushes us back inside.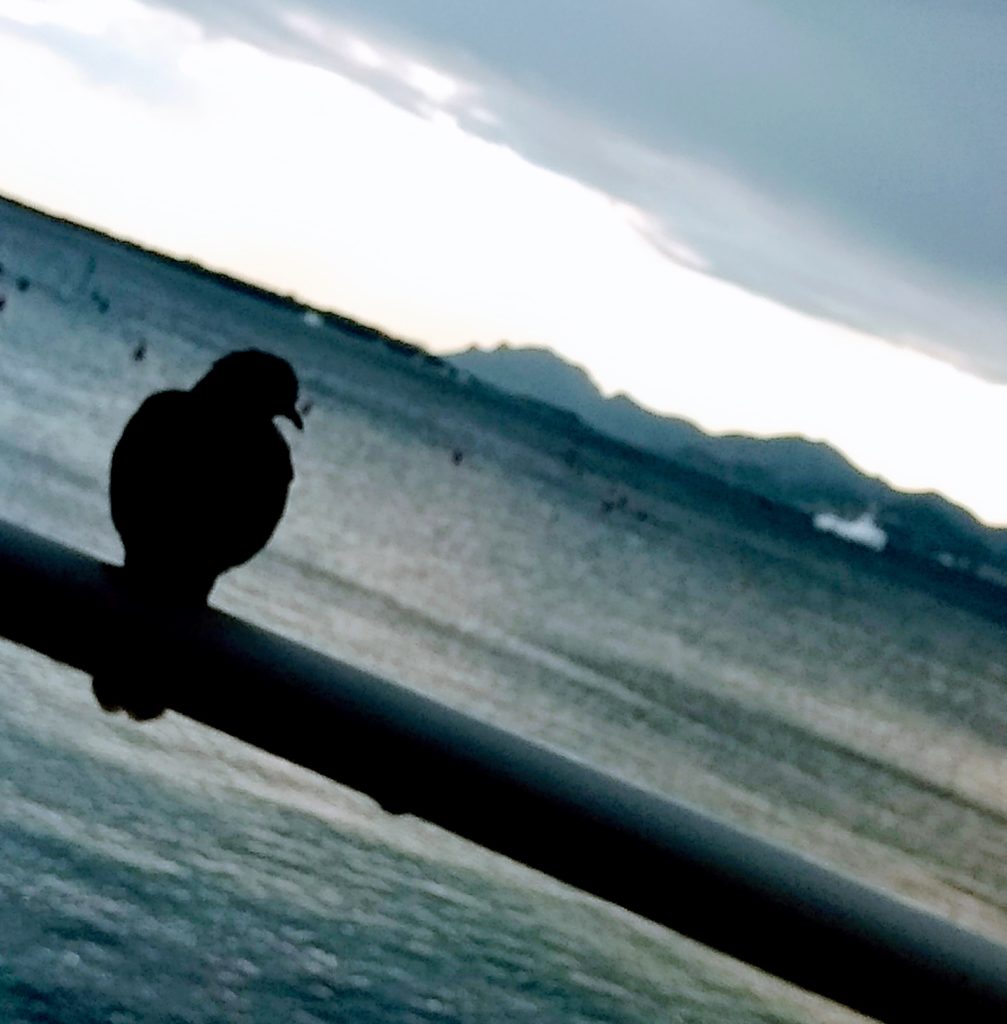 From the terrace (as well as from the nearby beaches) one can spot a small lighthouse that's just a hundred feet or so out in the water, so close that it's accessible by foot. Now it isn't absolute fact, but the lighthouse (which Fitzgerald, no doubt, would have seen on his many visits to the area) may have inspired the mysterious green, flashing light on the dock in The Great Gatsby. That light is, as you probably learned in high school, a capital-S symbol in the novel, yes, a symbol of Gatsy's dreams of Daisy, but also a symbol of the impossibility of the American Dream; reach for it all you want, but you'll never obtain it. Remember, this is high modernism; everything is bleak, even our hopes and dreams. (And I love it!) Nick Carraway, the story's narrator, lets us know: "Gatsby believed in the green light, the orgiastic future that year by year recedes before us. It eluded us then, but that's no matter — tomorrow we will run faster, stretch out our arms farther . . . . And one fine morning — So we beat on, boats against the current, borne back ceaselessly into the past."
My heart is a flutter (though perhaps that's the Gin Fizz I just drank). I must go to the green light. We must walk to the lighthouse.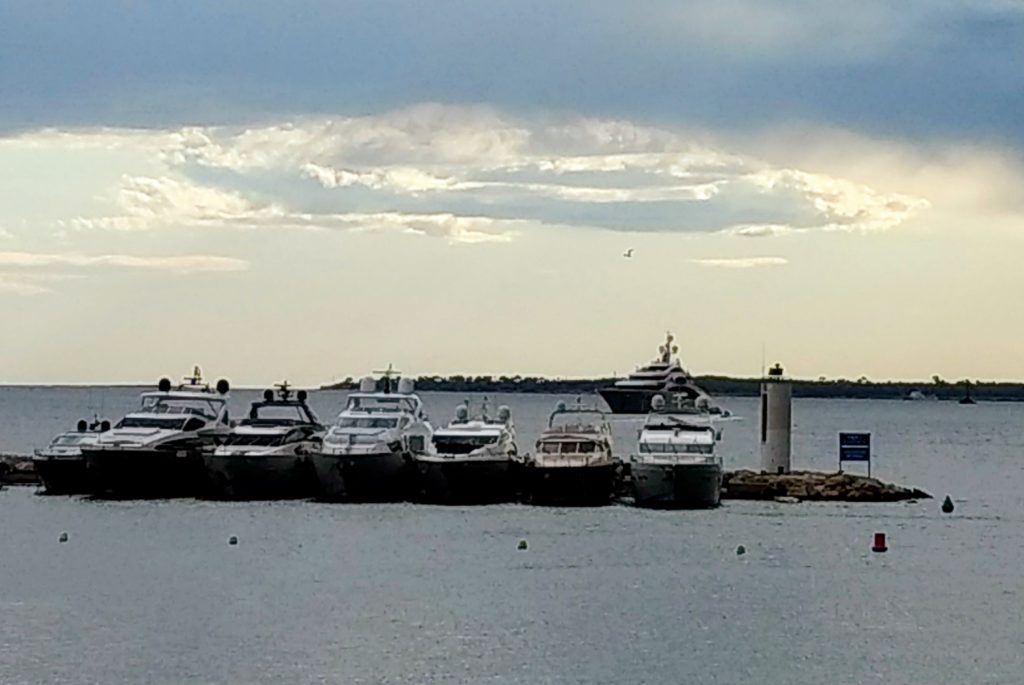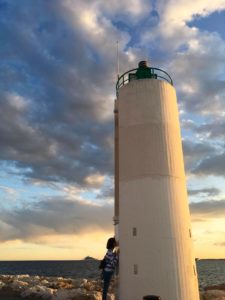 The rain that burst on us at the Bar Fitzgerald has passed, and we move through puddled parking lots and past dozens of docked boats until we get to the pier where the (maybe) famed lighthouse is. It is, how can I put it, extraordinary. The crisp sky takes on a marbled effect as the clouds thin and the sun slowly sets; the once cobalt water turns to spun gold.
Other than a few people coming and going from their boats and a lone woman walking a lone dog, we are the only ones out here — and clearly the only ones obsessed with the lighthouse; we're a few feet from the shore but it's as if we're in another world. I am a proud nerd, and luckily my equally-nerdy friend Kate seems to appreciate my freaking out over a lighthouse.
The air takes on a pleasant chill, and we head back to town, walking on a low concrete wall, for a late dinner to celebrate the day.

One can't go to Côte d'Azur without stopping at the Monte Carlo for one very-dry gin martini (shaken, not stirred). We aim first for a visit to picturesque Nice. After walking along the promenade, our instincts tell us to head up, perhaps inspired in part by the copious amounts of bread and cheese we've been consuming and in part by the stairs we see circling a tower at Castle Hill (Colline du Chateau). The sign promises that we'll get the best panorama in the world. Hoping it's not false advertising and seduced by the distant sounds of an accordion, we hit the concrete steps.
The view is pretty astonishing, the cloudless sky seeming to melt into the calm sea in the distance. Where water meets land, miniature people are scattered on the beach and strolling along la promenade des Anglais while the red roofs of historic Nice climb into the hills away from the sea.
It's still early in the day, plus we already hiked up all of those stairs, so Kate and I spend some time exploring Castle Hill. Interestingly, Castle Hill, in spite of being the archaeological site of a castle, doesn't at present have a castle on it. I later learn that in 1706, King Louis XIV had it destroyed. In the end, though, this led to Nice turning into a tourist-friendly town. But while there might not be a castle there anymore, the park itself is cool and green and an interesting place to wander. We stumble upon the manmade waterfall and get turned around trying to find a cemetery before heading back down.
Our plan is to drive up to Éze to have lunch overlooking the sea. Kate met a man on her flight who (1) told her how to correctly pronounce both Aix and Éze; and (2) told her that the views from Éze are unsurpassed. We trust the man on the plane, so we map out our route and start to go. One problem: we really want to drive along the coast, but Zelda insists that we take the higher road. We decide that we know more than she does, so we ignore her initial route and take the small, winding roads along the coast. After a few minutes of objection, she succumbs to our plan.
Clearly, we should have listened to Zelda. As I told you above, we soon learn that the road to Éze is closed this day. We find the whole thing amusing, though. Who else but the two of us would argue with Zelda? And the whole diversion leads us to Villefranche where we find perfection on a plate — la salade de fruits de mer while looking out at the sea.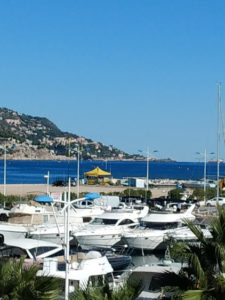 'What's better than extraordinary?' Kate says, when we're back on the road to Monaco, refueled and re-energized.
I stare out the window. Is it possible that the water is getting more blue? "Sublime," I say.
"Sublime. Sublime," she says. "Today is sublime."
In Monaco, we find a cozy spot in a garage so that Zelda can have a siesta and then strike out with the rich and famous. Okay. That's not exactly true. We strike out with people looking for the rich and famous.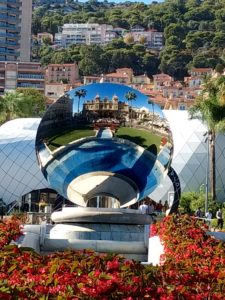 This is a moment to be clichéd tourists, and we revel in it. After bypassing some construction, we find the Monte Carlo, get through security, and enter the casino. Ornate doesn't begin to describe it. Polished floors reflect crystal chandeliers and the golden crown molding that connects to a high, painted ceiling. Massive marble pillars stand guard over tourists snapping eager photos. It's free to get inside and into the first room of slot machines, but we've come so far that we pay the admission to go into the main gaming room where we can sip our martinis in camera-free peace and do a bit of gambling (can we win two million starting with only €2? Hmmmm. Let's see).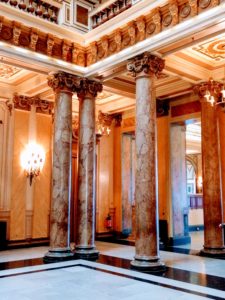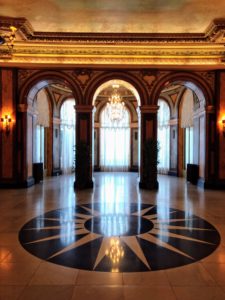 Much like casinos in Nevada, the casino is a, well, it's an interesting sight on a Wednesday afternoon; I think the same group of people I saw the last time I was in Laughlin are now crouched on stools here. Though there are some quirky characters sitting at the roulette table: a fuchsia-haired woman who doesn't quite seem like she knows what she's doing; a French biker with a tattooed head and a leather jacket advertising, Rough Riders, Isere, who seems to know exactly what he's doing. The casino workers, in their black tuxedos, seem unfazed by it all on this lazy afternoon, though they are friendly enough, even borderline flirtatious when we order our drinks.
Our €5 won't get us into the high roller rooms, but we can play the slots for a few minutes. In a moment of excitement, we get up over €8 — well on our way to the two million — but sadly, it's lost almost as quickly as it's won, and we walk out with a souvenir €0.37 cashout ticket.
Outside in the sun, a bit poorer, but still happy, we take a wander around town, clutching scoops of glacé in sugared carnets, before returning to the garage to wake up Zelda. Back in Juan-les-Pins, we have time for a late dinner before packing and getting to bed early enough so we can return to reality — airplanes and trains and metros, oh my! We're both pretty wiped out and can't make a decision about food, so we wind up randomly choosing a restaurant away from the busy strip of bars and bistros in town and get a table right on the beach. Our shoes full of sand, the sun swallowed and the shimmer of yachts shining on the Mediterranean, we splurge on steak and baby lamb chops and toast to a great holiday in the sun.
It's only as we're finishing our wine and contemplating l'addition that I spot it. The flash of a green light one hundred feet out at sea. Steady. Hypnotic. Familiar. It calls to me, reminds me that my dreams aren't impossible. Reminds me to keep reaching.