(If you missed it, you can start with Bridges, Day One!)
Day Two, I'm motivated. I'm out my door before 9 a.m., armed with a plan, energized by the cool air and the near empty streets. I love to stroll a city like Paris on a quiet weekend morning, before the shops are open, the cafés are crowded, and the tour buses are rolling.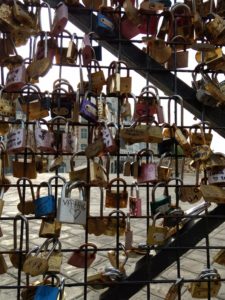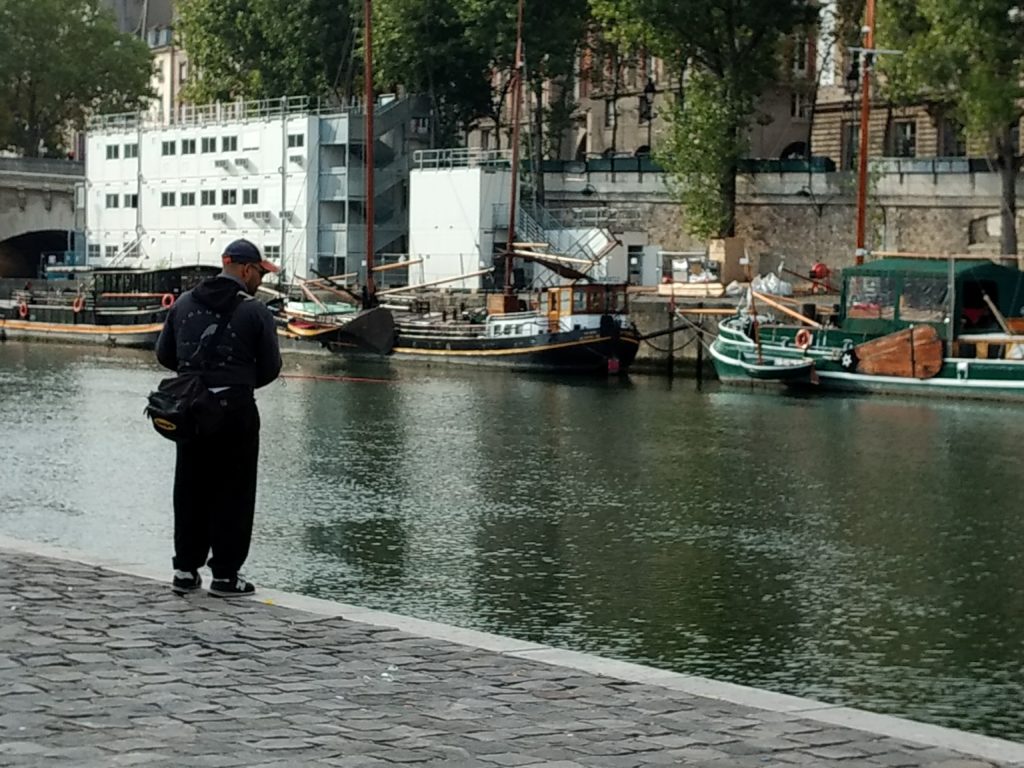 I begin with the Pont Neuf. Fun bridge fact: with construction starting in the late 1500s, it's the oldest standing bridge across the Seine in Paris. Its two spans join the left and right banks to the Île de la Cité (for those of you who have never been to Paris, the Île de la Cité is one of two natural islands in the Seine and is the center of Paris (it's where Notre Dame is, to give you a visual)). I stop at the end of the first span and head down to the Square du Vert-Galant, which is the downstream tip of the Île de la Cité. I head all the way to the end and sit on the very tip of the island. It's still early, still quiet. I'm virtually alone except for a few fishermen and a few stray walkers nearby. My friend Erica recently told me that the tip of Île de la Cité is considered one of the most romantic spots in all of Paris (given that Paris is considered an entire city of love, that's saying something). And it's true. I can't help but fall just a little bit in love with myself as I sit there, gazing out at the Pont des Artes.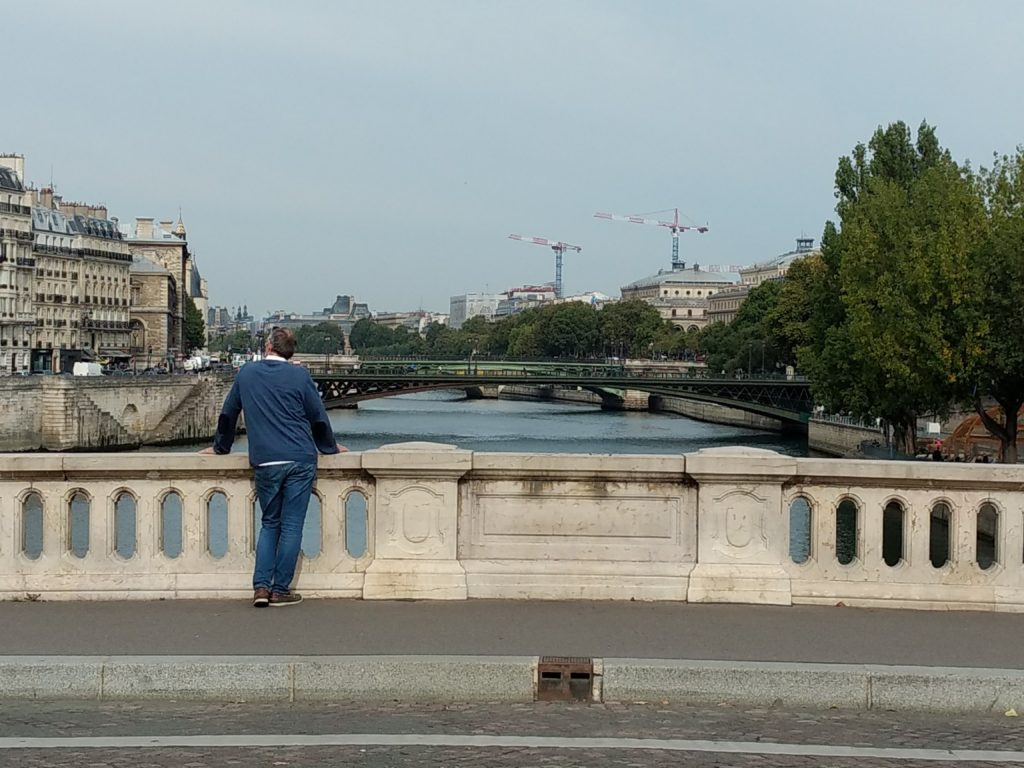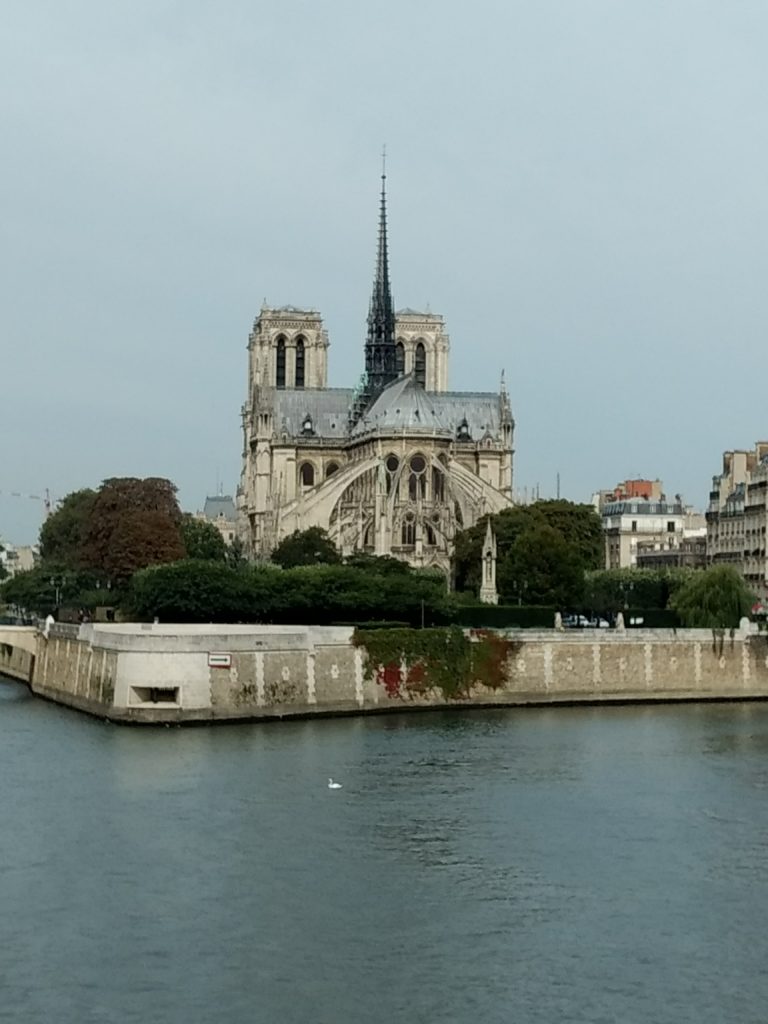 Back on the Pont Neuf, I head toward the right bank. The next few bridges take me criss-crossing from right to left over the Île de la Cité and the Île Saint-Louis. (I won't list them all here; including Pont Neuf, there are thirteen bridges that cross to/from the two islands.) While the queue to walk up Notre Dame is growing and the cafés on Île Saint-Louis are starting to fill, I'm happy that things are still relatively peaceful. Île Saint-Louis is for the most part a residential area and quiet, but there are numerous shops and cafés and ice cream counters (Berthillon, anyone?) on the island that make it a popular place to hang out on the weekend. But I'm here so early that there aren't even any street performers out on the Pont Saint-Louis. So I have a leisurely stroll back and forth across the Seine, stopping only for a few photos and to jot down some notes.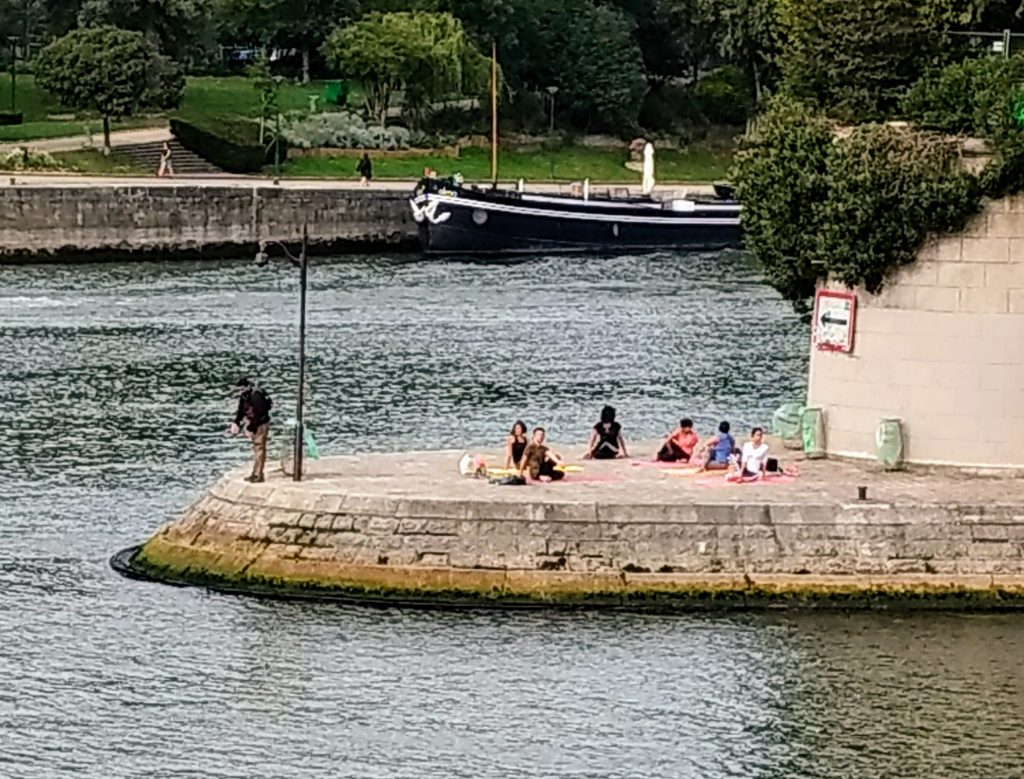 I land on the right bank and start to wind my way upriver toward Pont d'Austerlitz. After some traffic navigation, I'm dying for a rest and some caffeine, and I stop at a café across from Gare d'Austerlitz.
So here's the thing. Once I clear the center, Paris instantly becomes a different city. It's a little bit more gritty, a lot less touristy, and in many ways, a lot more real. It's easy to romanticize a place. When we do a place, we tend to go to the postcard places and snap the same photos that we see in the postcards. I get it. I do. I go to those places, too. But I feel lucky that I get to wander these other roads in Paris. The graffiti and litter-strewn streets I see are just as much a part of Paris as the Mona Lisa, perhaps, in some ways, even more so.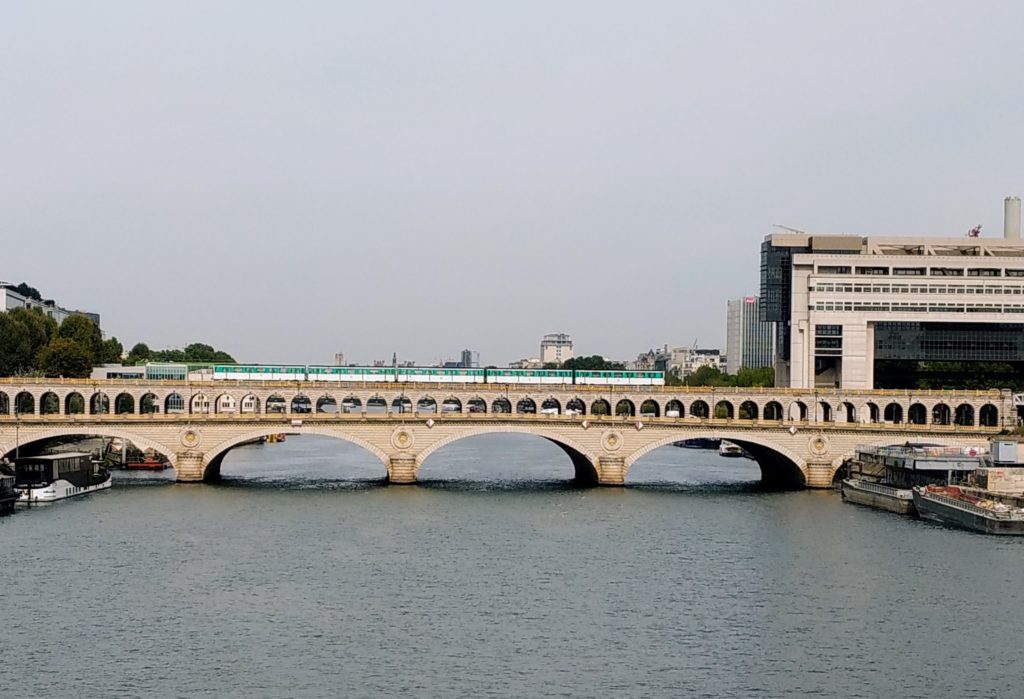 After I'm sufficiently re-caffeinated, I walk past the Viaduc d'Austerlitz (I don't walk across it as it's a railroad bridge; I'm not about to get myself killed or arrested to write this blog entry) and then cross the river again at the Pont Charles-de-Gaulle. As I continue my stroll upriver, I spot it. It's my bridge (I didn't know I had a bridge). The Pont de Bercy. It's a double-decker affair, with the upper level being for the railroad and the lower level for road traffic (including this super-cool tunnel for bikes).
I'm not much of a cyclist, but it makes me want to hire a bike for the day, just so I can ride through this tunnel. Probably singing show tunes at the top of my lungs. Seriously, how fun would that be?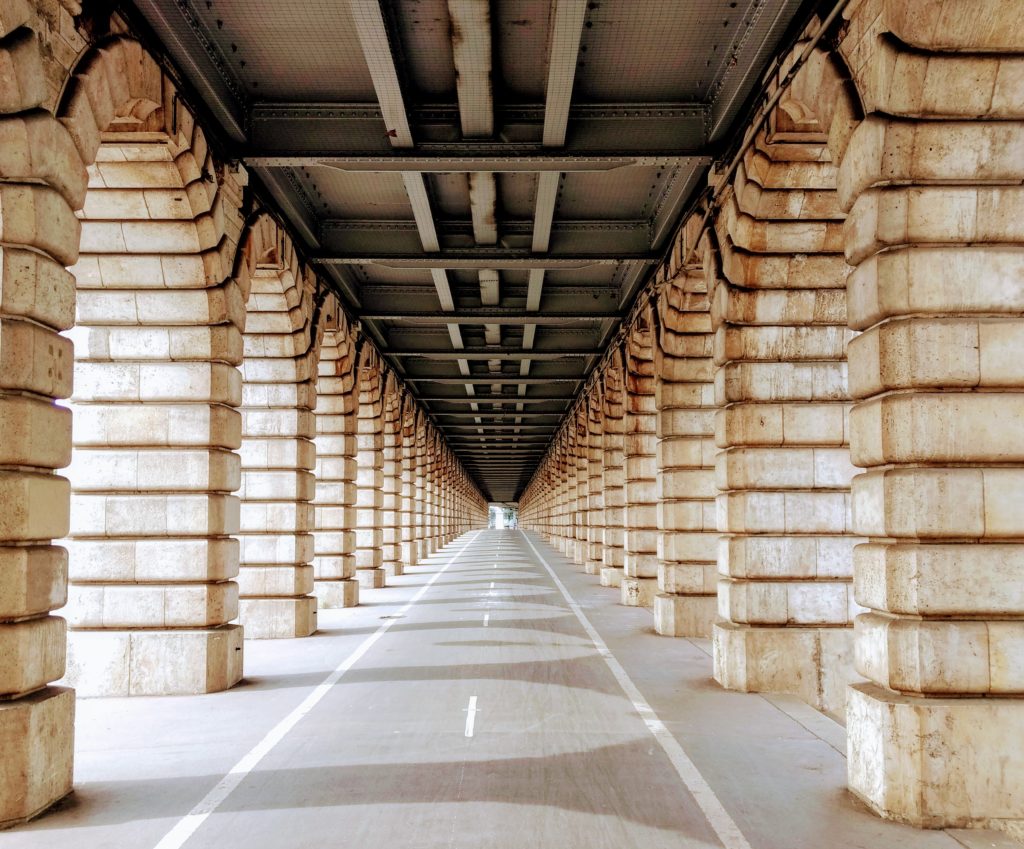 But I don't have a bike, and there are still four bridges to go, so I settle for walking across the Pont de Bercy. And then I spot the second, Oh-my-gosh-that-is-so-my-bridge bridge, the Passerelle Simone-de-Beauvoir. Nick-named la lentille (the lentil) because of its lens shape, this double footbridge opened in 2006. You kind of have to see it to understand it (I'm sure one of my physicist-type friends can explain how it works — it crosses the river without external support). Walking across it is like riding a gentle wave; with every step my vantage point changes. But mostly it's the type of bridge that just makes me want to race up and down like a little kid.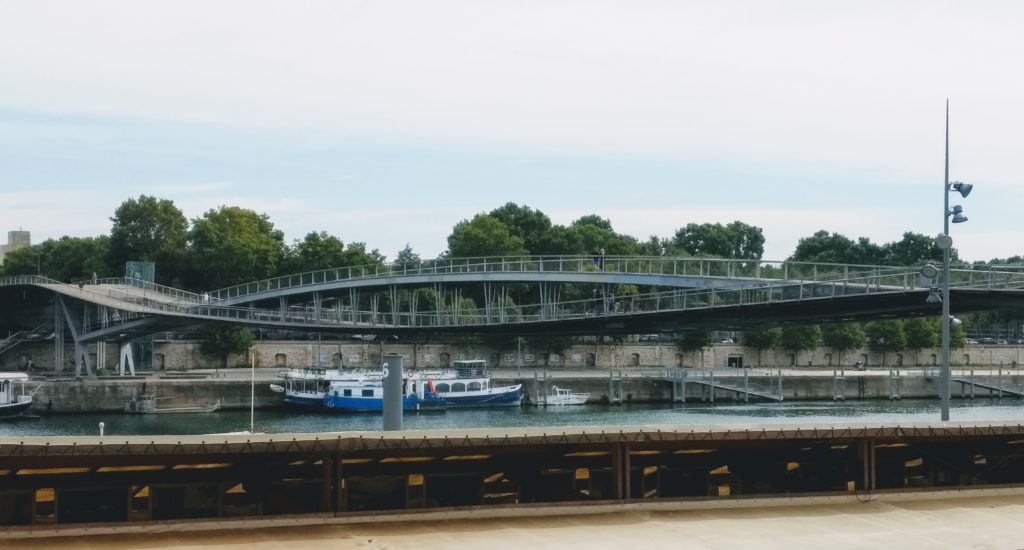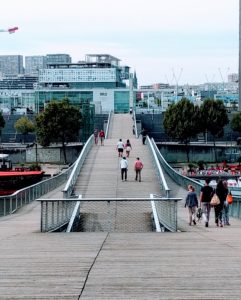 The bridge takes me to the Parc de Bercy in the 12th arrondissement. It's at this point that I'm cheering my decision to go on this walk because this park, like the bridge that led me to it, is, well it's just funky. My feet are starting to ache, so I don't take much time to explore, but I stop to eat my picnic lunch on the steps leading into the park and admire Rachid Khimoune's art installation, Les Enfants du Monde (a series of 21 bronze statues, each representing a different nationality in the world). This installation definitely warrants a return trip, so watch this space. Three bridges to go.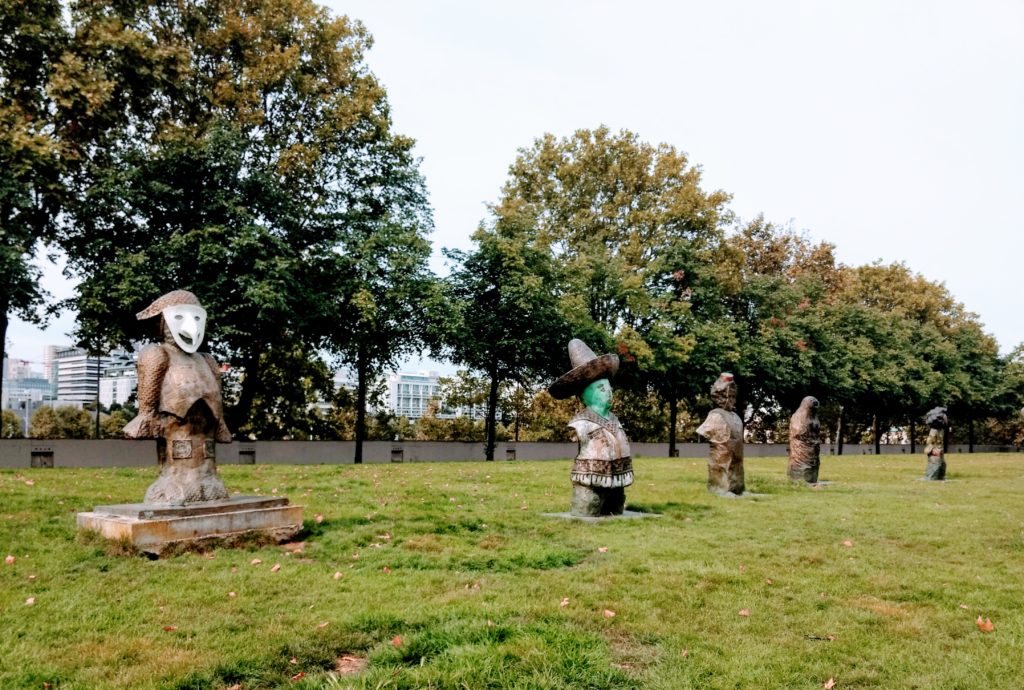 As I keep walking upriver, Paris becomes more industrial looking. I spot some smoke stacks in the distance, and many of the buildings are more modern —  more high rises and more warehouses. I cross the Pont de Tolbiac and then finally over the Pont National (where I can see the Pont Amont in the distance — a highway bridge that is the first bridge upriver on the Seine when you enter Paris).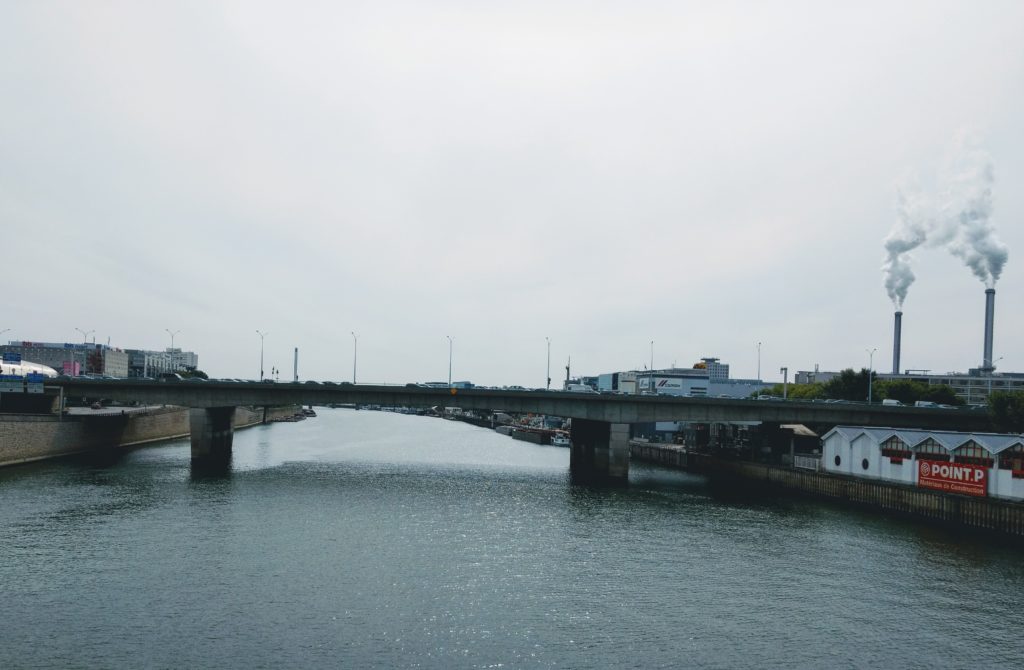 Exhausted and achy, I make my way to the closest metro (or the closest metro that I can find). It's been a long day, but I'm not finished yet. Head on over to the finish: Bridges, Day Three!